The Pressure-Sensitive Case May Change How You Use Your iPhone [READ]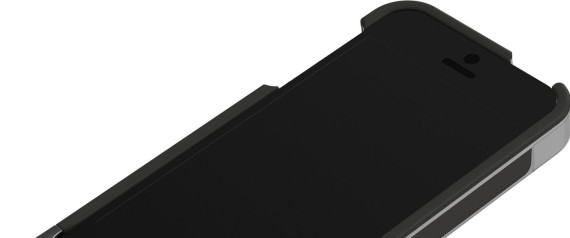 Estimated Reading Time: <1
By Timothy Stenovec
LAS VEGAS — It doesn't matter whether you give your iPhone a light tap or a hard press. Your phone responds the same, either way.
But what if it didn't?
Canopy, a Minneapolis-based startup, thinks touch screens limit how we interact with our smartphones. And this week at the International Consumer Electronics Show here, the company debuted the latest version of Sensus, an iPhone case that transforms the back and sides of your phone into large, pressure-sensitive touch pads.
This, Canopy says, has two advantages: It allows people to use their phones without touching the screen, increasing the viewable area (great for playing games). It also lets people use varying pressure to get different responses from apps and games.
"It's a whole new dimension to applications that isn't currently available on anything," Ian Spinelli, the marketing coordinator for Canopy, said in an interview.
Spinelli demonstrated the pressure-sensitive features by using the back of his iPhone as a scale to weigh a bottle. He also took a selfie (of course!) by squeezing the sides of case.
The developer version of Sensus that I saw weighs 1.4 ounces and looks like a robust protective case, albeit one with sensor-laden pads on the sides and back. (The company says the final version will weigh an ounce.) It plugs into your iPhone's Lightning connector. Spinelli said it uses less battery power than Bluetooth Smart, the latest and low-energy version of Bluetooth.
For now, only three apps are compatible with Sensus. But Spinelli said Sensus is working with many third-party apps, including "prominent" ones "that you've definitely heard of."
You can imagine what pressure-sensitive controls could do for Snapchat, the incredibly popular app that allows you to draw on photos or video, or for a mapping app like Google maps.
Spinelli declined to say whether the company was working with Apple to make any of the company's iPhone apps compatible with Sensus.
When I wrote last spring about the Samsung Galaxy S4, which allows you to control some phone features using head nods and waves, Pai-Ling Yin, an assistant professor at the MIT Sloan School of Management, told me that "people are desperate to interact with their phones in a new way."
I found some of those S4 features gimmicky and unreliable. It remains to be seen whether the experience of Sensus is more along the lines of what people are seeking.
For now, Sensus, which costs $99 and will be available this summer, will only work with the iPhone 5 and iPhone 5S. Canopy says it's possible the company will make cases for Android devices, too.
Article read in huffingtonpost