News Analysis: Fighting Human Trafficking
Estimated Reading Time: <1
Fighting human trafficking via international cooperation
By Okeoghene Oghenekaro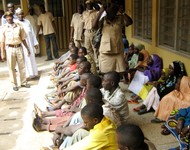 By most accounts, human trafficking is a form of modern-day slavery, which has affected many countries of the world, including Nigeria.
Human trafficking has been a growing source of concern to the Federal Government, which has set up a specific agency to tackle the menace.
The National Agency for the Prohibition of Trafficking in Persons and other Related Matters (NAPTIP) was established by the government as part of designed efforts to stamp out the crime.
This is because Nigeria has assumed a notorious reputation of being a transit, source and destination country in the nefarious trade in humans.
Commenting on the development, Mr Arinze Orakwe, NAPTIP's Assistant Director (Media and Communications), said: "It is a shame that 100 years after the abolition of slavery, the crime has sneaked back on us in other variances, including trafficking in persons.
"Nigeria is a transit, a source and a destination country. Unfortunately, that is the tag we have to live with presently because of this particular scourge.''
Over the years, countries have been looking into pragmatic ways of dealing with human trafficking, as the social problem deprives people of their human rights and dignity.
The UN Trafficking Protocol and the UN Global Plan of Action to Combat Trafficking in Persons encourage international cooperation among all countries in efforts to combat trafficking in persons.
The global plan particularly recommends operational measures that draw on other international instruments, political commitments and good practices to facilitate the implementation of a comprehensive anti-human trafficking response.
From the general to the specifics, NAPTIP has been seeking international cooperation in efforts to stamp out human trafficking in the country.
The Executive Secretary of NAPTIP, Mrs Beatrice Jedy-Agba, said that international cooperation was an essential tool in efforts to combat transnational organised crime, adding that Nigeria attached great importance to the consolidation of international efforts to combat human trafficking.
As part of efforts to foster international cooperation in the anti-human trafficking crusade, NAPTIP signed a three-year Memorandum of Understanding (MoU) with the Netherlands Public Prosecution Service on the development of non-operational cooperation on Dec. 6, 2011.
The deal was aimed at establishing and strengthening cooperation between the two countries in the fight against human trafficking.
Jedy-Agba said that the agreement would aid efforts to develop and strengthen national capacity in extradition, mutual legal assistance, joint investigations and international cooperation.
"It will further put in place measures required to develop institutional and technical capacity to design, implement and assess anti-human trafficking policies and strategies," she added.
Jedy-Agba said that one of the programmes which had been so far implemented under the agreement was the training on monitoring, profiling and risk analysis (airport and boarder control).
She said that the other programmes included training on gathering digital evidence and phone forensic, criminal intelligence, basic investigative skills and witness protection, among others.
A seminar on "International Cooperation and Judicial Assistance for Law Enforcement Officers'' was also organised between Oct. 23 and 24, 2013 by NAPTIP, in collaboration with the Dutch National Police Agency and National Public Prosecution Service and the Embassy of the Netherlands in Nigeria.
Mr Warner Ten-Kate, the National Public Prosecutor on human trafficking in the Netherlands, particularly underscored the need for countries to learn from each other's best practices in the campaign against transnational crime.
He traced the history of the partnership between Nigeria and the Netherlands.
"In the Netherlands, we discovered from 2005 onwards, a lot of young Nigerian girls came into the Netherlands through Schiphol Airport in Amsterdam unaccompanied, and they later disappeared after some weeks.
"We started investigating them as criminal cases and later found out that they turned up in street prostitution scenes in France, Spain and especially in Italy.
"They were trafficked by a criminal gang operating in the Netherlands, United Kingdom, Belgium, Germany, Italy, Nigeria and some EU countries.
"The only way to push back this gang and put it effectively out of business was to seek cooperation with Nigeria. So, we came over and a long-lasting strong partnership between our two countries was established.
"The Koolvis case, which was initiated to investigate the criminal process, continued for many years and it generated fruitful collaboration between Nigeria and the Netherlands.
"Even recently, one of the prime suspects was convicted and imprisoned for seven years. Many others have to serve long prison terms in Italy, even up to 12 years.
"Besides, Nigeria moved up to Tier 1 category in the U.S. Trafficking in Person Report as a result of this case.
Ten-Kate, however, stressed the need for continuity in ongoing efforts to stamp out trafficking in persons.
"I want to mention another important word in our relationship and that is continuity. Fighting crime, fighting trafficking in persons takes a long, sometimes, very long breath.
"To keep breathing, we need continuity in the Dutch police and the Dutch Public Prosecution Service; we need continuity in NAPTIP as well,'' he added.
Besides, Mr Mohammed Adoke, the Attorney-General of the Federation and Minister of Justice, signed a MoU with the National Anti-Mafia Bureau of Italy on Nov. 11, 2003.
The deal was on the campaign against human trafficking and other related organised crimes as well as the laundering of proceeds from same.
In 2004, the International Organisation for Migration (IOM) Nigeria signed a MOU with NAPTIP to cooperate in the area of technical support, awareness raising, direct assistance to trafficked persons and training.
The Chief of Mission of IOM, Mr Martin Ocaga, said that the organisation had established two shelters in Edo and Lagos states, adding that the shelters were currently managed by NAPTIP.
"Supported by the governments of Italy, Netherlands and Norway, IOM Nigeria, in collaboration with NAPTIP, also supported the development of an integrated referral service delivery system on social protection and socio-economic reintegration for victims of human trafficking.
"They also carried out visible primary prevention services in endemic source areas in Edo State,'' Ocaga added.
Besides, on Nov. 17, 2004, the Federal Government and the British Government entered into a pact to prevent, suppress trafficking in persons, while punishing perpetrators.
A similar agreement was also signed on June 9, 2005 by the Federal Government and the Government of Republic of Benin, as part of efforts to stop trafficking in persons, particularly women and children.
Beyond that, the Federal Government signed a deal on migration matters with the Government of the Grand Duchy of Luxembourg on March 28, 2006.
Lastly, the National Anti-Mafia Bureau of Italy and NAPTIP signed a MoU on Dec. 15, 2010 to strengthen the fight against human trafficking and laundering of proceeds from crimes.
NAPTIP was also privy to the national plan launched by Simonetta Sammaruga, the Head of Switzerland's Department of Justice and Police to combat human trafficking in that country.
NATIP's Executive Secretary said that the partnerships with these countries had enhanced the synergy among Nigerian law enforcement agencies via personal contacts and professional efficiency, while fostering inter-agency cooperation and leadership development.
Jedy-Agba said that the training given by the governments of various countries to Nigerian law enforcement agents had strengthened their capacity to identify human traffickers and their victims at various departure and entry points in the country.
"Partnership with these countries has also led to the donation of investigative equipment to NAPTIP to equip our forensic laboratory and enhance our service delivery,'' she said.
Adoke, the Attorney-General of the Federation, said that his office had established a unit, as part of efforts to combat trafficking in persons.
He stressed that the unit would help to review, evaluate and respond to requests for mutual legal assistance and extradition in a prompt and efficient manner in line with global best practices.
Adoke conveyed the Federal Government's commitment to work closely with the international community to ensure the effective implementation of the global plan of action on the fight against trafficking in persons.
All in all, experts are of the opinion that structured and sustained international cooperation will aid efforts to put an end to human trafficking.
However, the experts insist that Nigeria is not found wanting in such international collaborations.