Franck Ribery In Line For Ballon d'Or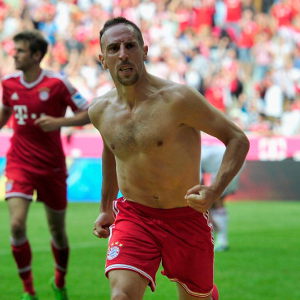 Estimated Reading Time: <1
On January 13th, the footballing world will turn its attention to Zurich, where the world's best player of 2013 will be decided. Alongside Lionel Messi and Cristiano Ronaldo is Franck Ribery.
Looking solely at the goal tally for "CR7", things could be difficult for the Frenchman. Ribery appears to be more of a team player though, providing more assists and, importantly, winning more titles!
Ronaldo scored 59 goals in all competitions – more than three times as many as Ribery (18). The Portugal international also fired his country to the World Cup finals with four goals in the playoff games against Sweden.
Ribery does have a clear advantage in terms of the "title haul" though, and football is a team sport. The Frenchman collected five titles with Bayern, Messi managed two with FC Barcelona (the league title and the domestic Super Cup) while Ronaldo ended the year with no trophies at Real Madrid.
Ribery's team play is clear from the number of assists he provided: 16 assists in Bayern colours in 2013 are the best of all three players.
In the Champions League final against Borussia Dortmund, Ribery was involved in both goals: His fantastic pass set up Arjen Robben who squared to Mario Mandzukic to score the opening goal of the game, before Ribery's flick set up Robben, who scored the winner.
Content Credit: Supersport.com