Solskjaer Confirmed As New Cardiff City Boss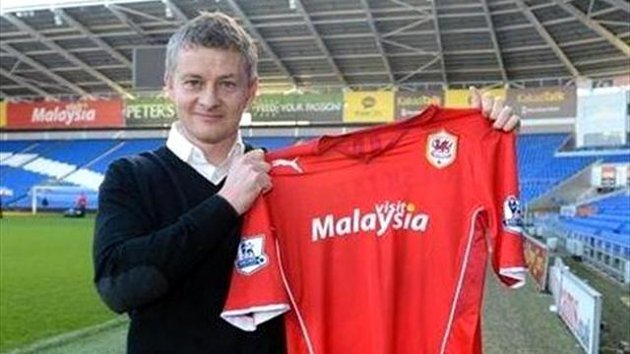 The 40-year-old Norwegian, who earned a place in United's history by scoring the winning goal in the 1999 Champions League final against Bayern Munich, replaces Scot Malky Mackay who was fired last week.
And just as he did as a player, Solskjaer hit the target perfectly when he told a news conference: "I would like us to finish above Swansea, that must be an aim…that will be important for everyone here."
Cardiff are fourth from bottom while Welsh rivals Swansea are four places higher in the table.
Solskjaer also discounted suggestions that former United manager Alex Ferguson had tried to dissuade him from taking the job.
"Absolute nonsense," he said. "He has given me his advice and wished me all the best.
"It's a fantastic challenge to be here, it is the right step for me now," added Solskjaer.
"What Cardiff have shown in the last three or four years – being in the play-offs, being promoted and in a couple of cup finals, they are ready for the next step and hopefully I will be the one who can do that with my philosophy of football.
"One of the factors that intrigued me most about Cardiff is the passion of the fans and that they love the club – the support they give their heroes.
"If you want to manage a football club you really want that passion."
Solskjaer said he had a "rolling contract" and was unconcerned about the controversy surrounding Cardiff owner Vincent Tan.
He added that the biggest decision he had to make was to uproot his family from their home in Kristiansund in Norway where he has lived while managing Molde for the last three seasons.
Caretaker David Kerslake has been running Cardiff since Mackay left and Solskjaer inherits a side one point above the relegation zone after losing 2-0 at leaders Arsenal on New Year's Day.
The former Norway striker led Molde to the first league title in their 100-year history in 2011 and retained the crown a year later.
They also won the Norwegian Cup last year.
The task Solskjaer faces now will be focused on survival rather than titles as Cardiff battle to preserve their top-flight status, achieved last season under Mackay after an absence of 51 years.
Mackay was sacked after falling out with billionaire Malaysian owner Tan in a series of public squabbles and despite being acclaimed by fans as the best manager the club has had.
Solskjaer, who sat next to Tan at Arsenal on Wednesday, will be in charge for Saturday's FA Cup third round tie at Newcastle United.
"It is great to be right back in the thick of it, back in the Premier League," he said.
"What assurances have I had? I have had great chats with (chairman) Mehmet (Dalman), I met the owner again yesterday and they have convinced me they want me to be in charge and to take the club forward.
"I don't really need any more confirmation than that."
Credit: Eurosport