Jose Mourinho Accuses Arsenal Of "Crying" About Decisions That Went Against Them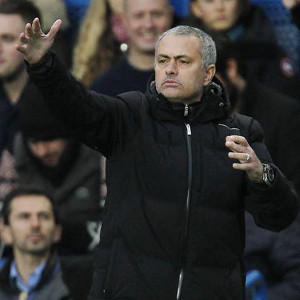 Jose Mourinho accused Arsenal of "crying" about decisions that went against them after Chelsea bullied their way to a fiery 0-0 draw at the Emirates Stadium.
Mourinho's side subjected Arsenal to some ferocious challenges as they hassled the Gunners out of their stride in Monday's bruising London derby.
John Obi Mikel was fortunate to avoid a red card after the Chelsea midfielder crunched into Mikel Arteta, while Arsenal also complained they should have had a penalty for Willian's challenge on Theo Walcott.
There were several other bone-jarring tackles that left Arsenal players writhing in agony, and Gunners boss Arsene Wenger seething on the touchline.
But Chelsea manager Mourinho refused to apologise for his team's no-holds-barred approach and instead took the opportunity to get one more dig in on old rival Wenger and his players.
"They like to cry, that's tradition," Mourinho said.
"I prefer to say that English people – and I give one example, (Chelsea's) Frank Lampard – would never provoke a situation like that.
"Players from other countries, especially some countries, they have that in their blood.
"I prefer English blood in football and English blood in these situations is 'come on, let's go.'"
Asked about Mikel following through into Arteta's shin, Mourinho insisted it was a fair challenge.
"It was a hard one, an aggressive one. Football is for men, or for women with fantastic attitude!" Mourinho said.
"Football is a game of contact. English football, winter, water on the pitch, the sliding tackles become at a fantastic speed. So be proud, play with pride."
As well as having to contend with Chelsea's aggressive tactics, Arsenal were also trapped in Mourinho's tactical straitjacket.
The Portuguese coach has never lost to Wenger in 10 meetings and this rarely looked like being the first defeat as his 4-5-1 formation stifled the life out of an already anxious Arsenal.
Arsenal's frustrated fans responded by chanting "boring Chelsea" at the final whistle.
Responding to the terrace jibes, Mourinho said sarcastically: "I'd agree. I played against them 10 times and I never lost.
"'Funny, funny Jose.' 10 times, they don't win once. What do you want to call me?"
Fourth placed Chelsea are just two points behind leaders Liverpool heading into the busy Christmas schedule, and Mourinho was adamant his defensive tactics were the right choice on a night when torrential rain and gale-force winds made smooth passing almost impossible.
"We came to win, but it was very important not to lose, because if we lose we are five points behind the leaders," Mourinho said.
"And, with a point, we are two points behind Liverpool and Arsenal. That's a completely different picture. We tried to win, but we are not unhappy with the point."
Wenger inevitably saw it rather differently, but he was careful not to be drawn into a war of words with Mourinho.
"Of course I can understand that," he said with a wry smile when told Mourinho said he thought referee Mike Dean had a good game.
"It's Christmas, so let's give everyone their own opinion and I can have mine.
"I don't think he (Dean) had a great game at all.
"On the pitch it (Mikel's foul) looked bad, but the referee was in a good position.
"As for the challenge in the area, I think it was a penalty. Honestly. If I'm wrong, I apologise."
Second placed Arsenal have now gone four matches without a win in all competitions and, after leading the Premier League for much of the season, they have been replaced at the top by Liverpool.
Yet Wenger said he remains certain Arsenal have the character to win the title race and added: "We're going through a patch where it's a bit more difficult, but part of a successful season is how you deal with that.
"The spirit of the players is unbelievably focused. There's a great desire.
"Let's be serious: if after the first game against Aston Villa (when Arsenal lost) I'd told you we'd be near the top of the league at Christmas, you'd have told me I was absolutely mad."