Christmas: PDP Preach Peace, Unity & Harmonious Co-existence Across The Country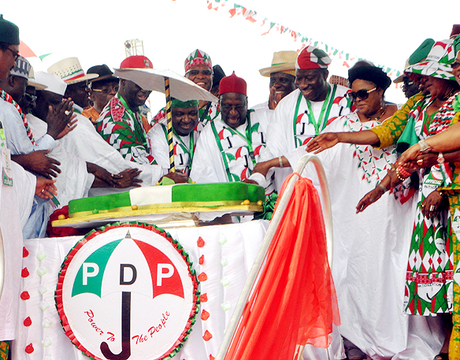 December 23, 2013
PRESS STATEMENT
Focus on the underprivileged, PDP urges members at Christmas
The National Working Committee of the Peoples Democratic Party (PDP) has directed all officers elected and appointed on the platform of the Party and indeed all members of the PDP to use this year's Christmas celebration to focus on the underprivileged, the widows, orphans and the homeless as exemplified in the life and teachings of Jesus Christ.
The party, in a Christmas message signed by its National Publicity Secretary, Chief Olisa Metuh, on Monday noted that "the coming of Jesus Christ brought salvation, joy and happiness to mankind" and urged all genuine party members to "in the true spirit of Christmas, see beyond the colours and sounds and focus on bringing succour to those who are in need".
"Christmas presents the ideal time to express love to all, especially the needy and the underprivileged. We must therefore ensure that we use the opportunity presented by this year's celebration to make sacrifices in love and touch the lives of those around us as illustrated by the Lord Jesus Christ", the party said, reminding that such "is in line with its manifesto which principally focuses on the welfare, happiness and prosperity of all Nigerians."
Stressing that the Christmas message of "peace on earth, goodwill to all men" must not be lost, the PDP urged Nigerians to use this year's celebration to usher in peace, unity and harmonious co-existence across the country. The party also prayed God to shower His blessings on the nation and wished Nigerians happy celebrations.
Signed:
Chief Olisa Metuh
National Publicity Secretary