Fighting spreads Between South Sudanese Soldiers To Town Of Bor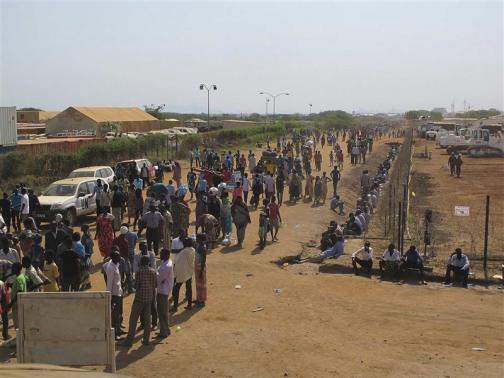 By Andrew Green
(Reuters) – Fighting between South Sudanese soldiers spread to the flashpoint town of Bor on Wednesday, raising fears of a broader civil conflict in the two-year-old nation.
An official in Bor, north of Juba, said soldiers attacked each other at two military barracks and one journalist said troops loyal to Vice President Riek Machar now controlled them, suggesting violence was increasingly running along ethnic lines.
Soldiers in the capital Juba have clashed since Sunday, killing up to 500 people, in what President Salva Kiir said was an attempted coup launched by Machar's supporters.
According to the online journal Sudan Tribune, Machar denied any role in the fighting or any coup attempt.
Juba was calm after sporadic overnight gunfire but fighting was also reported to have flared in Torit, east of Juba, adding fresh instability to an already volatile region of Africa.
"The worry is that once this conflict spreads out of Juba to other areas it is in (a) much more ethnic landscape, and then you have the remobilization of the old militias," said one Western diplomat who has long dealt with South Sudan.
The president sacked Machar in July and political tensions have simmered since then in the oil producing nation, which relies on crude exports via a pipeline through Sudan. Till now, fighting had appeared to stay away from the oilfields.
The government said it had arrested 10 people, including seven former ministers, over the "foiled coup" and wanted to question several others, including Machar.
In Bor, where Nuer soldiers loyal to Machar in 1991 massacred hundreds of Dinka, the president's ethnic group, the locals feared the fighting could spill beyond the barracks.
A broader conflict could threaten vital aid and be exploited by neighboring Sudan, which has had persistent rows with Juba over their undefined borders, oil and security. That would further hurt efforts to build a functioning state in the south.
"Last night there was fighting in two military barracks," Hussein Maar, deputy governor of Jonglei state, told Reuters, although he said the town of Bor was calm.
A journalist in Bor told Reuters by telephone that troops led by commander Peter Gadet, a Machar ally, took control of bases that were abandoned by outnumbered Dinka soldiers.
But details were sketchy, and, according to another account, only one base was in the hands of Machar's allies.
REGIONAL IMPACT
The United Nations in South Sudan reported fighting on Wednesday morning in the Bor area, saying on Twitter that more than 1,000 civilians sought refuge in the U.N. compound. It also reported clashes at a military base in Torit, east of Juba.
The diplomat said the expanded fighting was tipping the nation towards an ethnic civil conflict that was "difficult to roll back", saying Kiir had raised the stakes by branding the clashes a coup attempt rather than just infighting in the army.
"It will impact a lot of countries, and they are not beacons of stability," he said of the region around South Sudan. "There will be negative consequences for everybody."
In Juba, traffic returned to the streets and the airport reopened, amid a tense calm in the capital of a nation the size of France with 11 million people but barely any tarmac roads.
The U.S. State Department said it was organizing evacuation flights and Britain said it was evacuating some embassy staff and gathering names of other Britons who wanted to leave. Many aid workers live and work in Juba.
Diplomats said the United Nations had reports of between 400 and 500 people killed and up to 800 wounded in the nation that declared independence in 2011 from Sudan, after decades of civil conflict between what was then north and south Sudan.
"Most people are scared they might be confronted with a mob or see dead bodies," said one aid worker in Juba, adding that the city was calmer on Wednesday morning, after residents awoke to heavy gunfire and artillery blasts on Monday and Tuesday.
Political tensions have been mounting since Machar's dismissal. The former vice president has said he would run for president and has accused Kiir of being dictatorial.
Kiir had said before the clashes that his rivals were reviving rifts that provoked infighting in the 1990s.
He has faced mounting public criticism for doing little to improve life in one of Africa's poorest nations.
"Salva must recognize that the charge of his being 'dictatorial' has taken deep hold, and he must do what is necessary to shed the label as much as possible," South Sudan expert Eric Reeves wrote in an assessment of the violence.
"There are a number of urgent steps he must take to secure the confidence of the international community, and to put the Nuer community at ease in the Juba area and elsewhere."
(Additional reporting by Drazen Jorgic in Nairobi; Writing by Edmund Blair; Editing by Elizabeth Piper and Mike Collett-White)