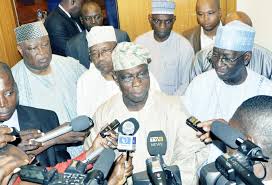 The peace meeting with President Goodluck Jonathan and Peoples Democratic Party governors to put to an end the crisis in the party has again ended in a stalemate.
The meeting that ended early hours of Monday had in attendance Governor Aliyu Wamakko of Sokoto State alongside his Kano counterpart, Rabiu Kwankwaso of the All Progressives Congress at the First Lady Conference Hall, Presidential Villa venue.
Governor of Sokoto State told journalists that he attended the meeting to formally inform the President of their defection to the All Progressive Congress.
But the Chairman of the Peoples Democratic Party Governors Forum, Governor Godswill Akpabio said no such issue was discussed at the meeting and Wamakko was at liberty to leave the party as thousands of the party members in Sokoto State will remain in the PDP.
A committee of elders had fine-tuned the peace deal between the People's Democratic Party (PDP) and the aggrieved governors of the party, now G2.
The hope of reconciliation between the feuding factions of the party has been dashed as both sides refused to shift grounds but the crisis in the party has been a major blow to the PDP with the defection of 5 governors.