Mandela Inspired others To Reach For What Appeared To Be Impossible – Muhammad Ali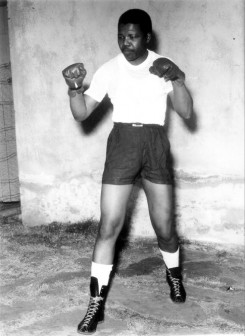 Boxing Champion, Muhammad Ali  has described the late Nelson Mandela as one that inspired others to "reach for what appeared to be impossible."
Ali in a statement issued  through his foundation said,"What I will remember most about Mr. Mandela is that he was a man whose heart, soul and spirit could not be contained or restrained by racial and economic injustices, metal bars or the burden of hate and revenge,".
The former South African president, Nobel Peace Prize winner and anti-apartheid leader died Thursday at the age of 95, was also a boxer at some point of his life, his demise has continued to elicit reactions from celebrities world over.
FIFA President Sepp Blatter said he and world soccer were in mourning at Mandela's passing and ordered that the 209 flags of the world body's member countries at FIFA headquarters in Switzerland be flown at half-staff.
"It is in deep mourning that I pay my respects to an extraordinary person, probably one of the greatest humanists of our time and a dear friend of mine: Nelson Rolihlahla Mandela," Blatter said.
"It's sad for everyone who got a chance to not only meet him, but I've been influenced by him," golfer Tiger Woods said. "I got a chance to meet him with my father back in '98. He invited us to his home, and it was one of the inspiring times I've ever had in my life."