Brazil 2014: World Cup Ball Unveiled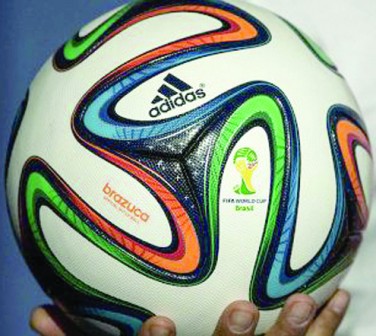 The official game ball of the 2014 World Cup was formally introduced in host nation Brazil. The ball, which is named "Brazuca," will be used in all matches of next year's football World Cup finals, BBC reports. Brazuca was selected as a result of a survey conducted among fans.
In addition, the event organizers will hold a campaign. On Tuesday, all Brazilian children that are born in the 2014 World Cup hosting cities received a Brazuca.
Meanwhile, at least three World Cup stadia in Brazil will not be finished by the end of December as FIFA requested.
Soccer's governing body said Tuesday the stadiums in Sao Paulo, Curitiba and Cuiaba are unable to meet the deadline because of construction delays.
The announcement came after the World Cup organising committee received updates from the six host cities that still must turn over the venues for next year's tournament. The other six were ready for this year's Confederations Cup.
"Two stadia will be delivered more in the region of February than in January or December," FIFA Secretary General Jerome Valcke said. "Curitiba is the one where we are facing the most problems. Clearly, Curitiba will not be delivered before the end of February 2014, so that's a fact."
The stadium in Cuiaba also is expected to be ready in February, four months before the World Cup opens on June 12. FIFA said it still doesn't know when it will have the venue in Sao Paulo, where a crane collapse last week killed two workers and damaged part of the stadium. A report on the scale of the damage is expected by the end of the week.