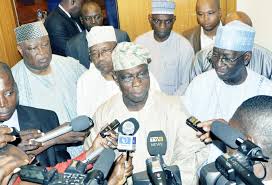 The Leaders of the ruling Peoples Democratic Party Sunday met with the warring governors to discuss the defection of fiver governors from the party, one wonders if the meeting isn't late already.
President Goodluck Jonathan and Vice President Namadi Sambo held meetings with governors and deputy governors at the Presidential Villa,  Abuja on Sunday.
11  governors and two deputy governors alongside with the Vice-President Namadi Sambo were the first to have met  then followed the meeting  between President Goodluck Jonathan and the two remaining  rebel  governors –   Sule Lamido (Jigawa ( and   Babangida Aliyu (Niger).
Briefing State House Correspondents, Chairman of the PDP  Board of Trustees, Chief Anthony Anenih, at the end of the meeting said Jonathan, and the rebel governors were happy that they were moving to restore confidence and trust in the PDP leadership.
Anenih said, "We have had our meeting presided over by the President with the Vice-President in attendance. We had useful meeting, the summary of it all is that we are happy that we are moving to restore confidence and trust. There will be a series of meetings between now and the weekend,"
Lamido said he would remain in the PDP. "I stand by my principles which is one Nigeria which is based on law and order," he said.
Aliyu also said he attended the meeting because he was still a member of the PDP.
The meeting agenda bothered on the defection by  Amaechi, Wamakko , Ahmed, Kwakwanso  and  Nyako  and its implications for the PDP.
The party leaders also discussed how to stem the  crises in the party and how to make sure that Aliyu   and  Lamido  did not defect to the APC.
A source said"The governors are not comfortable with the gale of defection in the party and that was why we decided to meet .When we leave here, we might meet  with President Godluck Jonathan  or Vice-President Namadi Sambo this(Sunday) evening.
"We need to reposition our  party and that is what we are going to tell the President or the VP. "
He said  they  never thought  that the aggrieved governors would ever defect to the APC,which they considered as arc enemy.
"We were astonished to hear that they have moved to the APC. It is  bad and this implies that they are ready to team up with our enemies to send us out of power."