Elephant Poaching Could Wipe Out 20 Percent Of African Population In Next Decade, Report Shows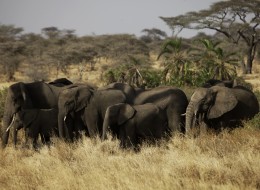 JOHANNESBURG (AP) — As many as 20 percent of Africa's elephants could be killed in the next 10 years if illegal poaching continues at the current rate, according to new data released Monday at the opening of the Elephant Summit in Botswana.
An estimated 22,000 elephants were illegally killed across Africa in 2012, slightly lower than the 25,000 elephants poached in 2011, according to a report by the Convention on International Trade in Endangered Species, or CITES.
The elephant killings took place at 42 sites across 27 Africa countries, said the CITES report.
"With an estimated 22,000 African elephants illegally killed in 2012, we continue to face a critical situation. Current elephant poaching in Africa remains far too high, and could soon lead to local extinctions if the present killing rates continue. The situation is particularly acute in Central Africa where the estimated poaching rate is twice the continental average," said John E. Scanlon, CITES Secretary-General.
The poaching data was released at the African Elephant Summit in Gaborone, Botswana's capital. The conference on elephants is being convened by the Botswana government and the International Union for Conservation of Nature (IUCN).
In September 2013 cyanide was used to kill more than 300 elephants in Zimbabwe's Hwange National Park in the "worst single massacre in southern Africa for 25 years," said the IUCN in a statement.
Africa current has about 500,000 elephants, according to the IUCN. Elephants in Central Africa are bearing the brunt of the poaching, although high poaching levels in all sub-regions mean that even the large elephant populations in southern and eastern Africa are at risk unless the trend is reversed, said the IUCN.
Poverty and weak governance in elephant range states, together with rising demand for illegal ivory in consuming nations, are believed to be the key factors behind the increase in elephant poaching in recent years.
The elephant summit is being convened to agree on policies to end the illegal ivory trade and secure viable elephant populations across Africa, including strengthening national laws to tackle wildlife crime and enhancing cooperation between countries.