ASUU Strike Is Subversive, No Longer Trade Union – Jonathan
Estimated Reading Time: <1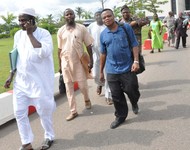 President Goodluck Jonathan says the strike embarked upon by the  Academic Staff Union of Universities is no longer a trade dispute but a subversive action.
Jonathan said this at the Peoples Democratic Party state caucus meeting at the Government House, Yenagoa.
The President said despite holding the longest meeting in his political career with all the highest officers in his administration present, ASUU did not deem it fit to reconsider its stance.
"What ASUU is doing is no longer trade union. I have intervened in other labour issues before now, once I invite them, they respond and after the meeting they take decision and call off the strike" Jonathan said.
Since July 1, 2013 when ASUU embarked on strike over the non-implementation of the 2009 agreement with the Federal Government, the President said the union leaders were  given four days notice before the meeting, unlike other unions.
The President added, "What was expected having met with the highest authorities in the land for long hours, was for ASUU to immediately issue a statement within 12 or latest 24 hours to state their position whether they were accepting government's offer or not. And if they are not accepting, they state the reason for that."
"But despite the fact that I had the longest meeting with ASUU in my political history, we did not start that meeting until around 2 pm and the meeting ended the next day in the early hours of the morning. As far as the government of Nigeria was concerned, all the critical people that should be in a meeting were there, so what else do they want?
He added , "After that, they didn't meet until one week, despite the fact that you met with the highest authority. It was unfortunate one of them, Prof. Iyayi died.
"The way ASUU has conducted the matter shows they are extreme and when Iyayi died, they now said the strike was now indefinite, our children have been at home for over five months.
"We didn't give them ultimatum; it was the Committee of Vice Chancellors that took that decision. The supervising minister of education only passed on the decision. What ASUU is doing is no longer trade dispute but subversive action. But like you rightly noted so that we will not be perceived to be insensitive, we will consult on the deadline."
The Federal Government had on Thursday given ASUU one week ultimatum to call off strike or consider themselves sacked.