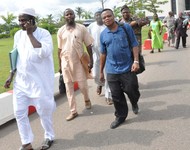 The Senior Special Assistant to President Goodluck Jonathan on Public Affairs, Dr. Doyin Okupe who has been quiet for a while now is back – this time the President's aide accusses the  Academic Staff Union of Universities (ASUU) of attempting to subvert  the Presidency.
"We make bold to state that there is absolutely nothing dictatorial, draconian or undemocratic in the order by the Federal Government for striking lecturers to return to work or face dismissal."
Addressing pressmen in Abuja on Sunday, Okupe said the negative disposition of the ASUU leadership is unarguably a pre-conceived and calculated treacherous plot, further describing the leadership of the union  as rigid and insensitive.
The Senior Special Assistant described the actions by Asuu leaders as reckless and irresponsible display of insensitivity.
"This is clearly a hallmark of a leadership that is determined to employ subterfuge in an attempt to hold government, students and their parents and other stakeholders to ransom in a reckless and irresponsible display of insensitivity, lawlessness and absolute lack of patriotism and even the fear of God.
Okupe said it has become obvious that this is no longer an altruistic strike borne out of good intentions and aimed at improving the welfare of students and staff of the universities and the standard of our educational institutions.
"Rather, it is an evil programme motivated by selfish political interests and motivations within the polity".
He said government had reached agreement with ASUU to make available N100 billion for the provision of infrastructure on campuses of 61 universities covered in the needs assessment of universities, with a further commitment of another N200 billion over the next two years, and N40 billion of the N90 billion Earned Allowances demanded by the lecturers one would have expected them to reconsider their stand.
Okupe added that ASUU leadership in the meeting with President Jonathan failed curiously to articulate the basis of the calculation of the demanded N90 billion earned allowance, which has been on the table since 2009.
"It becomes crystal clear therefore that the Federal Government has shown good faith and commendable commitment by acceding to most of the demands of ASUU." Okupe concluded.