SERAP Wants Nigeria's Attorney General, Abubakar Malami And Accountant General jailed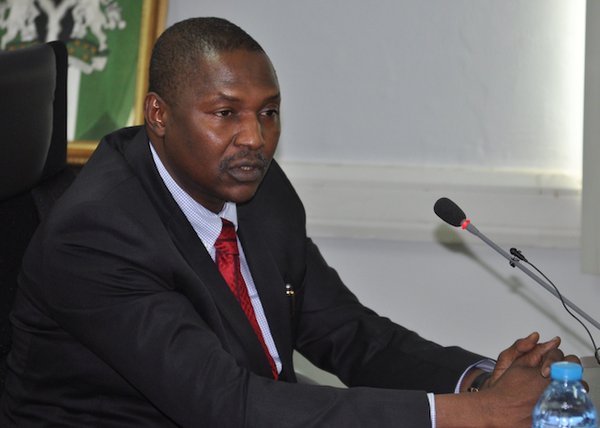 The Socio-Economic Rights and Accountability Project, SERAP, has commenced committal to prison hearings against the Federal Government; Abubakar Malami, Attorney-General of the Federation and Minister of Justice; and Ahmed Idris, Accountant-General of the Federation "for having neglected to obey the order of the court made on Friday the 26th of February, 2016, requiring them to provide SERAP with up to date information on the spending of recovered stolen funds since the return of democracy in 1999."
The information ordered to be released by Justice Muhammed Idris of the Federal High Court, Lagos include specific details on the total amount of recovered stolen public assets by governments since 1999; the amount that has been spent from the recovered stolen public assets and the objects of such spending; as well as details and location of specific projects on which recovered stolen public assets were spent.
The Form 49 "notice to show cause why order of committal should not be made" was filed at the Federal High Court, Lagos last week by SERAP executive director Adetokunbo Mumuni "following the service on Mr. Malami and Alhaji Idris of Form 48 contempt suit, and the certified true copy of the judgment."
Mr. Mumuni said, "Despite the service of both form 48 and the certified true copy of the judgment on both the Attorney General of the Federation and the Accountant-General of the Federation they have failed and/or neglected to acknowledge the judgment let alone obey it."
"It has become painfully clear since the judgment was delivered that this government has no plan to enforce it. It's dismaying that a government, which builds its reputation on combating grand corruption has not embraced the enormous opportunities the judgment provides to open the book on what exactly happened to recovered loot."
"It's absolutely unacceptable to take the court, which is the guardian of justice in this country, for a ride. A democratic state based on the rule of law cannot exist or function, if the government ignores and/or fails to abide by Court orders," Mr. Mumuni said.
The 69-page judgment in suit no: FHC/IKJ/CS/248/2011 signed by Honourable Justice Mohammed Idris reads in part: "Transparency in the decision-making process and access to information upon which decisions have been made can enhance accountability."
"Obedience to the rule of law by all citizens but more particularly those who publicly took oath of office to protect and preserve the Constitution is a desideratum to good governance and respect for the rule of law. In a constitutional democracy like ours, this is meant to be the norm."
"In respect of the SERAP reliefs on recovered stolen funds since return of democracy in 1999, the government had kept mute. Let me say that they have no such power under the law."
"There is public interest in public authorities and high-profile individuals being accountable for the quality of their decision making. Ensuring that decisions have been made on the basis of quality legal advice is part of accountability."
"I am of the view and do hold that the action should and does succeed in whole. Documents relating to the receipt or expenditure on recovered stolen funds since return of democracy in 1999 constitute part of the information which a public institution and authority is obligated to publish, disseminate and make available to members of the public. The government has no legally justifiable reason for refusing to provide SERAP with the information requested, and therefore, this Court ought to compel the government to comply with the Freedom of Information Act, as the government is not above the law."
"Judgment is hereby entered judgment in favour of SERAP against the Federal Government as follows:
A DECLARATION is hereby made that the failure and/or refusal of the Respondents to individually and/or collectively disclose detailed information about the spending of recovered stolen public funds since the return of civil rule in 1999, and to publish widely such information, including on a dedicated website, amounts to a breach of the fundamental principles of transparency and accountability and violates Articles 9, 21 and 22 of the African Charter on Human and Peoples' Rights (Ratification and Enforcement) Act
A DECLARATION is hereby made that by virtue of the provisions of Section 4 (a) of the Freedom of Information Act 2011, the 1st Defendant/Respondent is under a binding legal obligation to provide the Plaintiff/Applicant with up to date information on the spending of recovered stolen funds, including:
(a) Detailed information on the total amount of recovered stolen public assets that have so far been recovered by Nigeria
(b) The amount that has been spent from the recovered stolen public assets and the objects of such spending
(c) Details of projects on which recovered stolen public assets were spent
AN ORDER OF MANDAMUS is made directing and or compelling the Defendants/Respondents to provide the Plaintiff/Applicant with up to date information on recovered stolen funds since the return of civilian rule in 1999, including:
(a) Detailed information on the total amount of recovered stolen public assets that have so far been recovered by Nigeria
(b) The amount that has been spent from the recovered stolen public assets and the objects of such spending
(c) Details of projects on which recovered stolen public assets were spent
It would be recalled that SERAP had on 28 March 2016 sent a copy of the certified true copy of the judgment to Mr. Malami and Mr. Idris urging them to use their "good offices and leadership to ensure and facilitate full, effective and timely enforcement and implementation of the judgment."
SERAP letter reads in part "Given the relative newness of the Buhari government, the effective enforcement and implementation of the judgment will invariably involve setting up a mechanism by the government to invite the leadership and high-ranking officials of the governments of former President Olusegun Obasanjo, former President Umaru Yar'Adua, and former President Goodluck Jonathan to explain, clarify and provide evidence on the amounts of stolen funds recovered by their respective governments (from abroad and within Nigeria), and the projects (including their locations) on which the funds were spent."
"SERAP therefore believes that the swift enforcement and implementation of this landmark judgment by the government of President Muhammadu Buhari will be litmus test for the President's oft-repeated commitments to transparency, accountability and the fight against corruption, and for the effectiveness of the Freedom of Information Act in general."
The organisation said that, "The enforcement and implementation of the judgment should not be delayed as to do this is to continue to frustrate the victims of corruption in the country since the return of democracy in 1999, and will threaten to undermine the authority of our judicial system."