Nigerian Army Explain Why They Had To Kill Biafran Protesters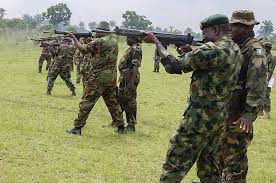 The Nigerian army says it shot pro-Biafran protesters on Monday over "unwarranted attack, breach of peace and creation of wide spread panic, tension and apprehension".
Sani Usman, deputy director, army public relations, made this known in a statement issued on Tuesday.
Several protesters commemorating the 49th anniversary of the declaration of the defunct Biafra Republic by Odumegwu Ojukwu, were shot across the south-east, resulting to causalities on the side of the military and the protesters.
But Usman justified the action, saying the security agents resorted to rules of engagement as a result of the violent attacks from the activists.
"Due to the wide spread panic, tension and apprehension that generated from the activities of the MASSOB and IPOB members, security agencies which comprised of detachment of Nigerian Navy, Nigeria Police, Department of State Service, National Drug Law Enforcement Agency were compelled to intervene in consonance with constitutional provisions of aid to civil authority where and when such occasion demands," the statement read.
"The over arching imperative to ensure a reign of peace, security and stability in this circumstance was most starring.
"The nature of this attack involved brazen employment of various types of fire arms and all sorts of crude weapons, volatile cocktail such as acid and dynamites.
"Instructively, troops of 82 division Nigerian army as the lead agency of the security agents had to invoke the extant Rules of Engagement (ROE) to resort to self defence, protection of the strategic Niger Bridge, prevent re-enforcement of the pro-Biafra members apparently surging ahead from the far side of the strategic Niger Bridge at Onitsha. All these efforts were in order to de-escalate the palpable tension as well as ward off the apparent threats to lives and property in the general area.
"In the aftermath of the fire fight that ensued, many of own troops sustained varying degrees of injury. These injured troops are currently receiving treatment at own medical centre. Similarly, 5 members of MASSOB/IPOB were killed, 8 wounded while 9 were arrested for due legal actions."