At A Meeting With Catholic Bishops, Buhari Promises To Deal With Rampaging Fulani Herdsmen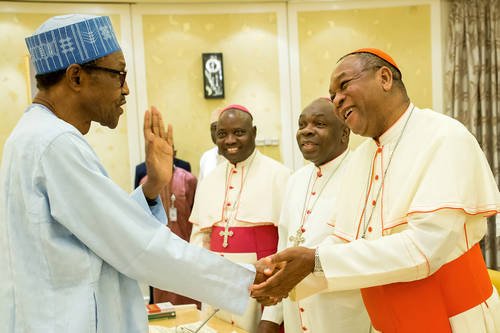 Nigeria's President, Muhammadu Buhari, has restated his administration's commitment to dealing decisively and expeditiously with herdsmen that have continued to attack communities across Nigeria.
NewsWireNGR recalls that the Catholic Archbishop of Abuja Diocese, John Cardinal Onaiyekan, was attacked by suspected fulani herdsmen along the Benin-Ekpoma road in Edo State.
The incident took place while the Cardinal was returning from Benin, where he attended the 10-years anniversary of the enthronement of the bishop, Augustine Akubueze.
Speaking at a meeting with members of the Catholic Bishops Conference of Nigeria (CBCN), President Buhari confirmed that heads of national security agencies have been ordered to take all necessary action to apprehend and expose those behind the heinous attacks.
"We are determined to secure all Nigerians and I have told the Inspector-General of Police and other security agencies, in very strong terms, to deal decisively with the attackers," the President said.
President Buhari expressed his personal condolences to the Catholic Bishop of Enugu, the people of Ukpabi Nimbo and all other communities that have suffered fatalities and other losses from the recent attacks.
Speaking on other national issues, the President assured the Bishops that he was acting with deliberation and moving methodically to implement his change agenda for the good of the country.
"We need to rebuild our institutions methodically, we need to change the way we do things.
"In the last 10 years, crude oil sold for more than $100 per barrel, but Nigeria did not save. That is why we have found ourselves where we are today," President Buhari told the Catholic Bishops, led by Most Reverend Ignatius Kaigama, the Archbishop of Jos.
The President assured them that his administration was working very hard to fulfill all the promises it had made to Nigerians, adding that his greatest motivating factor now is the desire to bring positive change to Nigeria.
On behalf of the bishops, Most Reverend Kaigama expressed the solidarity of the CBCN with the President.
"We are willing to collaborate with you and with your administration, in which we see hope for a greater Nigeria," he told the President.
A statement by a spokesman for the President, Femi Adesina, said the bishops pledged continued prayers for Nigeria and the government, expressing their conviction that current hardships are temporary, and Nigeria will soon overcome its present difficulties.