NNPC Begs Nigerians To Be Patient As They Queue For Petrol In Another Two Months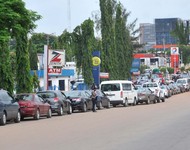 The Nigerian National Petroleum Corporation (NNPC) friday apologised to Nigerians for failing to keep up with its responsibility of ensuring that petrol is adequately available for use in the country having been allocated the largest share of 72 per cent of petrol import in the first quarter of the 2016 allocation.
The Federal Government had on Wednesday in Abuja said it would ensure complete elimination of fuel queue in the country within the next two months.
The Minister of State, Petroleum Resources, Mr Emmanuel Ibe Kachikwu, gave the assurance while fielding questions from State House correspondents after a closed door meeting with President Muhammadu Buhari.
But the NNPC said in a statement from its Group General Manager, Public Affair, Mr. Garba Deen Mohammed in Abuja that it feels the pains of Nigerians who have to queue for long hours at filling stations to get petrol.
It explained that it was working hard to restore normalcy in petrol supply across the country, and once again promised that the huge queues of motorists will clear off within two weeks.
The queues have suddenly increased after admission by the government that the situation was overwhelming it and that it would take a while to get it right.
But the statement said: "The Nigerian National Petroleum Corporation (NNPC) wishes to empathise with the difficulties Nigerians are presently going through due to the current fuel situation and assures that the government and NNPC are not taking their patience for granted."
It urged Nigerians to continue to be patient, adding: "The difficulties being experienced as a result of the situation will soon be alleviated."
While giving details of what was being done so far to tackle the situation, NNPC said: "We would like to assure all Nigerians that the Minister of State for Petroleum Resources/Group Managing Director, Dr. Ibe Kachikwu and everybody else associated with this situation is working tirelessly round the clock to ensure relief is brought to Nigerians.
"Our immediate concern is to make petrol available through the interventions and processes put in place so that the queues will disappear within the next one to two weeks.
"As at 1600hrs of today, one PMS cargo containing 42 million litres has completely discharged, two more PMS cargos with a combined 'Remaining on Board' (ROB) of 44 million litres are currently discharging while another PMS cargo containing 44 million litres is berthed and awaiting discharge."
The corporation further said: "We have enough products lined up to ensure that the supply gap which created the problem is bridged. In order to ensure effective distribution, we are working with Independent Petroleum Marketers Association of Nigeria (IPMAN), oil majors and over 1,000 NNPC staff, nationwide to ensure we overcome the obstacles in the distribution of the products.
"While not resorting to excuses, we would like to re-emphasise that this present management of NNPC and indeed the government inherited huge and complicated problems with respect to importation, distribution and pricing of petroleum products. Nigerians would recall that the sum of N522,258,934,505 meant for payment of fuel subsidy, covering the last quarter of 2014 (October to December) and the entire 2015 was approved by the Senate in December 2015 in order to pay for subsidy arrears inherited by this government."
For long term solutions to the fuel supply challenges, the NNPC said that it was working to put in place machineries to ensure that the country's refineries in Port Harcourt, Kaduna and Warri are fixed and working optimally, while the pipelines which have been under attack for some time now are repaired.
It said that the Direct Sale Direct Purchase (DSDP) arrangement for crude which it has adopted to use in place of the former swap programme would commence in the first week of April, adding, "all these coupled with the fact that the President has given his support to increase the crude supply to NNPC to ensure local sufficiency of products will go a long way to solve the problems in the short and long term."