Nigeria Faces Sanction As 40,000 Spectators Crowd A 25,000 Capacity Stadium In Kaduna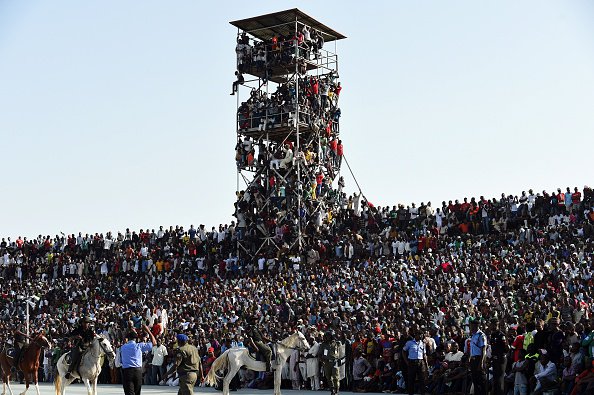 Estimated Reading Time: <1
Nigeria could face African Football Confederation (CAF) sanctions for allowing too many spectators into the Ahmadu Bello Stadium in Kaduna Friday for an Africa Cup of Nations qualifier against Egypt.
An estimated 40,000 crowd was inside the 25,000-capacity northern Nigeria venue when the match kicked off after the Kaduna state government allowed fans free entry.
"Nigeria will most likely be penalised by CAF for poor crowd control even though there was no major incident before, during or after the match," said a leading football official, who requested anonymity.
"Sanctions for such a shortcoming would be a fine and a warning," he added.
Another official said the police failed to stop the crowd gaining access to the stadium even when it was clear that the capacity was overstretched.
Many spectators watched the 1-1 draw from inside the seating perimeter while police, some on horses, patrolled.
Other fans climbed a floodlights pylon to watch the clash of the former African champions. In 2009, poor crowd control in Abidjan caused 19 deaths before a 2010 World Cup qualifier between hosts Ivory Coast and Malawi.
Investigators said ticketless fans were to blame for the stampede and the Ivorian FA was fined $47,000 by FIFA. A stampede at the Accra Sports Stadium in Ghana in 2001 resulted in 127 deaths.