Abubakar Audu To Be Buried Monday As Wada Declares 7-day Mourning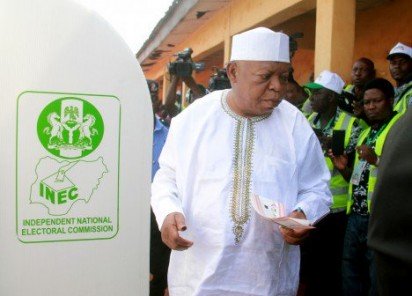 The All Progressives Congress governorship candidate in Kogi state who died on Sunday will be buried Monday morning according to Muslim rites.
His opponent at the polls, Idris Wada who is incumbent governor of the state has declared seven days mourning for the late Audu.
The APC governorship candidate, Prince Abubakar Audu, who was waiting to be declared the winner of the election, has instead been declared dead.
He was said to have had a massive stroke around 3:10 pm today in his village of Ogbonicha and died. Some minutes after INEC returning officer Professor Emmanunel Kucha declared the result of the poll inconclusive.
Family sources say that Audu has had a history of heart-related problems. He was said to have fallen ill after casting his vote Saturday afternoon.
Sources said at a stage, he was vomiting blood. According to sources, Audu was said to have fallen ill after he cast his ballot in his village of Ogbonicha yesterday.
Sources said he was vomiting blood at some stage, but was stabilised by doctors around him. However his condition worsened this morning, culminating in a massive stroke. Just when an air ambulance was being organised to lift him for better medicare, he gave up the ghost.
Audu, from the results declared by the INEC, from the 21 local councils in the state, had won 16 and was clearly ahead of the PDP opponent and incumbent, Idris Wada.
But INEC declared the election inconclusive, despite projections by the media that he had won. A lesson to the media not to project election results again.