Multiple Explosion In Abuja Was Carried Out By Male & Female Suicide Bombers Police Say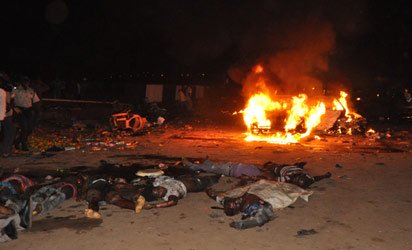 Two suicide bombers, a male and female carried out Friday's bomb blasts in Abuja.
The Force Spokesperson, ACP Olabisi Kolawole disclosed this in a statement in Abuja on Saturday on the blast that occurred in Kuje and Nyanya areas of the Federal Capital Territory.
He quoted the Inspector General of Police, Solomon Arase as saying that the perpetrators of the act did so in shame of cowardice.
Arase however assured that no matter the aim of the bombers, Nigeria will not accommodate terrorists' acts
He however urged Nigerians to be vigilant at all times and report any suspicious persons or objects to the nearest Police Station or any other security agencies for prompt intervention
Following the blast, the Inspector-General has ordered a stop-and-search operation in and around Abuja.