I Won't Give Account Of My Stewardship In Newspapers Says Fashola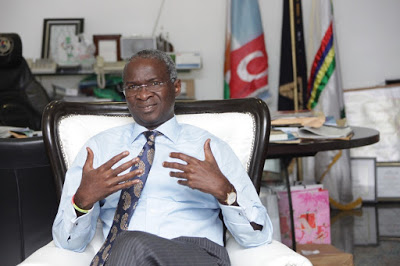 Immediate past governor of Lagos State, Babatunde Fashola, said yesterday that he will not be forced to give account of his stewardship on the pages of newspapers.
Fashola said this during a question and answer session at the 16th Bishop Mike Okwonkwo annual lecture series.
His statement was in response to a question by a journalist, who asked the former governor to clear the air on allegations trailing his tenure.
Several allegations have been levelled against Fashola since he left office, including award of a bogus amount of money to set up a personal website and construction of two boreholes in the Government House.
At the lecture, Fashola attributed the success in curtailing the Ebola virus to the cremation law his administration put in place in Lagos.
"When we introduced the cremation law, there was a lot of criticism. It got to a stage where I had to come out and explain to the people that it was not compulsory; that everyone must cremate their dead. But I also told our people that we have become a global city and there are people from other parts of the world who are living with us; for whom cremation is a way of life. They live here and work here, but when they die, they are taken out of here. Why? Why can't they be buried here", he said.
He added: "The cremation law however became very instructive when Ebola broke out. This is because an Ebola patient is even more amenable to treatment than its corpse. With the law in place, we were able to cremate the dead.
Ebola victims. Had it been we did not have that law in place, maybe we would have still been battling the virus".
The former governor who spoke extensively on citizens' responsibilities also urged Nigerians to pay attention to Section 24, article A to F. He said except citizens played their roles as enshrined in the constitution, it would be unfair of them to expect anything from government.
Fashola also condemned people's apathy to participate in electoral system, lamenting that out of 5, 822, 207 Lagosians who registered for election in 2015, only 1,284, 577 people, representing 25 per cent of the voting population, actually voted in presidential election while 22 per cent voted in gubernatorial election.
On payment of tax, the former governor lamented that out of about nine million people employed, it was half of that population; 4.5 million that are actually paying taxes being used to run the state.