Fayose Distributes Customise Rice To The People Of Ekiti State, Pardons Civil Servants [Photos]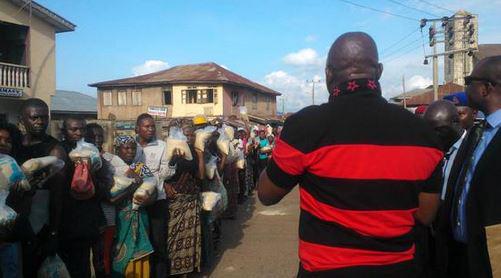 Keeping up with the stomach infrastructure campaign promise to his people, Governor Fayose distributed rice to the people of Ekiti state and pardoned the civil servants who were late to work on Monday.
Ekiti State governor, Mr Ayo Fayose, has pardoned the 31 workers who coming late to work on Monday, just as he held a meeting with public servants to discuss whether the state should take the bailout funds being planned for states by the Federal Government.
Speaking at the meeting in Ado-Ekiti, on Wednesday, the governor also expressed reservations about the bailout funds, saying it would aggravate the debt profile of the state.
According to him, even with the nine per cent interest on the fund, rolling it over with the debts and commitments the state already had would be too burdensome.
"They say they are restructuring N18.8 billion of our commercial loans and with the nine per cent interest, by the time the money is repaid in 20 years, we would have paid an extra N36 billion as interest. That means the N18 billion would have become N56 billion.
"I am addressing you on the issue so that before I commit the state to taking the loan, I have to get your permission. The main consequence of the bailout is that it is from same monthly allocation from the Federation Account that we will accommodate servicing the N25 bond we inherited from the previous administration, that bailout itself and commercial loans.
"When allocation comes and they are deducted from source, do not say I did not tell you. I set up a technical committee to see to how we disburse monthly allocations coming to the state. The committee has members drawn from labour unions, tertiary institutions, among others. We do this to allow for transparency in the system," he said.
On the poor attitude of some workers, he noted that there was the need for a change of attitude.
"I am begging workers to get to work on time. If we are paying salaries on time, then civil servants must also reciprocate that by coming to work on time. Also, people must be ready to pay rates, taxes and levies, if civil servants are paying taxes, others should pay as well. Our IGR must improve," he stated.
In his address, the Head of Service, Dr Gbenga Faseluka, promised the cooperation of civil servants to the government.