Governor El'Rufai To Begin Demolition Of Houses In Kaduna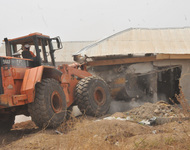 Kaduna Governor, Mallam Nasir El'Rufai, has vowed to demolish houses built on compounds and premises of secondary schools in all parts of the state from Wednesday.
El'Rufai who asked occupants of affected houses to move out before the Wednesday ultimatum said, anyone who fails to obey the order and move out their belongings before the expiration date risk loosing his or her property to demolition .
The News Nigeria is reporting that the governor was speaking during the second town hall meeting with residents of Kaduna North Senatorial District held Sultan Abubakar Sa'ad Assembly Hall today at Barewa College, Zaria , Governor El'Rufai said his administration will not condone the era of lawlessness and illegalities .
"It is not right and sensible for any government or individual to give out lands meant for use and future expansion of schools in the areas located for residential purposes . That era is over ."
While expressing anger over encroachment of government lands particularly , secondary schools compounds and premises , the former Minister, Federal Capital Territory , FCT Abuja said no amount of pressures or threats will stop him from demolishing them as promised. "We would not allow some selfish individuals and politicians to build on lands belonging to our schools be taken over without taking appropriate measures to stop them". He also stated
Meanwhile he said before carrying out the demolition, anyone with Certificate of Occupancy would be considered for alternatives, but the property on such lands would be demolished.
Similarly , El'Rufai has vowed to arrest anyone identified as ghost worker who has receiving salaries as an employee of the state government during the on going biometrics verification exercise of civil servants in the state. He therefore warned ,"Anyone caught would be arrested and forced to pay what has be stolen as a fake worker".
While revealing that N120 million has been saved from the first phase of the biometrics exercise, he urged civil servant to bear with the state government as they have scheduled to go through another phase of the verification exercise. According to El'Rufai, good number of policemen have been mobilised to the various venues of the exercise to enforce order and arrest of any fake worker. He however stressed that all workers must come out with all the required document for the exercise again.
He equally urged the workers to be patient as the exercise will ensure sanity in the civil service .