Presidency Allegedly Ordered Arrest Of Rivers INEC REC, Dame Gesila Khan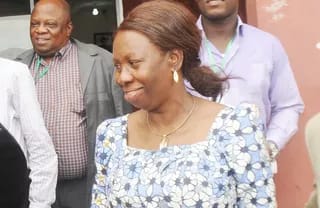 The Independent National Electoral Commission, INEC Resident Electoral Commissioner (REC), for Rivers State, Dame Gesila Khan, was apprehended by State Security Services, SSS operatives over her role in the conduct of the recent general elections in the state.
According to Nigerian Pilot, the REC was detained in an underground cell with nobody having access to her, including her family and lawyer.
It was alleged that her arrest was masterminded by members of the All Progressives Congress (APC), in the state, who feeling there was foul play in the March and April elections in which the Peoples Democratic Party (PDP) candidates won with landslide victories in both state and National Assembly elections.
Informants claim that a directive from the office of the President, led the Inspector-General of Police, Solomon Arase to invite Khan to his office in Abuja where she was reportedly quizzed for hours on her refusal to allow the APC access to election materials despite an order by the state governorship election petition tribunal sitting in Abuja.
The immediate past governor of Rivers State, Rotimi Amaechi has been accused by the family of the arrested Rivers State Resident Electoral Commissioner, REC, Gesila Khan of masterminding her arrest by the Department of State Services, DSS.
The family made the allegation in a statement on Tuesday in Yenagoa, which was signed by the family spokesperson, Okubama Johnbull.
It claimed that information at its disposal revealed that it was after Amaechi visited the Director-General of the DSS that Khan was arrested.
According to the family, "We, as a responsible family, know where this onslaught is coming from.
"We have it on good authority that it was the visit of the former governor of Rivers State, Rotimi Amaechi, to the DSS Director, that prompted the invitation of Mrs. Khan."
While decrying the arrest, detention, harassment and intimidation of the REC over her role in the last elections in Rivers, the Khans alleged that the REC was being forced "to write an undertaking to turn the results of the Rivers State general elections in favour of the All Progressives Congress, the ruling party at the national level."
The family wondered why the DSS would single her out for victimisation and intimidation when matters concerning the last general elections were being handled by election petition tribunals.
It went on to express concern that Khan "who is diagnosed of hypertension and diabetics," had been denied her medication in detention, a development it claimed, was affecting her health.
The family urged President Muhammadu Buhari, to intervene and caution the DSS to allow due process and the rule of law to prevail in Khan's travail.
It equally pleaded with human rights organisations and public-spirited individuals to come to her aide, insisting that Khan's arrest and detention were unlawful.