Breaking: Adamu Mua'zu Resigns As PDP National Chairman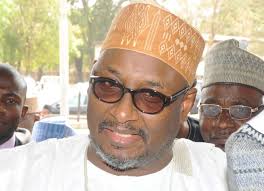 by Musa Abdullahi
The crisis rocking the Peoples Democratic Party, PDP, took a turn for the worst as the national chairman of the party, Adamu Mu'azu has resigned as the national chairman.
His resignation took effect immediately.
Also , it was reliably gathered that President Goodluck Jonathan has asked the chairman of PDP Board of Trustees (BoT), Chief Anthony Anenih to resign his office as the BOT chairman. But it is not known whether Anenih has accepted to resign or not.
Governor Ayodele Fayose of Ekiti State had engaged PDP National Chairman, Alhaji Adamu Mu'azu, in a war of words over the defeat of the party in the 2015 general elections, calling on Mu'azu and others in the party's National Working Committee to resign.
Governor Babangida Aliyu of Niger State had also urged leaders of Peoples Democratic Party to emulate the British political leaders, who resigned after leading their party to defeat in Thursday's election.
Aliyu said this in Dutse, Jigawa State capital, at the inauguration of a township road named after the then 'G7 Governors' by Jigawa State Governor, Sule Lamido.
He said any leader, who led his political party to defeat, like it happened to the PDP, was expected to resign.
"It is unfortunate that people had to be called to resign. The leaders are supposed to voluntarily resign their positions for the loss at the just concluded general elections.
"It is unfair that they are threatening to form a factional PDP because they were asked to resign," he said.
The governor noted that morality and principle were key attributes the PDP must imbibe to succeed for future elections.