Prepare To Fulfil Your Campaign Promises To Nigerian People, Rights Group Urges Buhari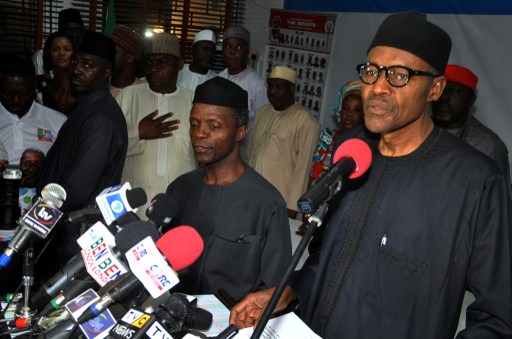 As President-elect, General Muhammadu Buhari (rtd) is preparing to take the mantle of leadership from the incumbent Nigeria President, Dr Goodluck Ebele Jonathan on May 29th, 2015, a human rights group in Nigeria, the Centre for Human Rights and Social Justice (CHRSJ) has urged General Buhari to be fully prepared to fulfil his electioneering campaign promises to people of the country when assumed office.
The rights group also maintained that the expectations of the Nigerian masses from the President-Elect were high and Nigerians would not take
any excuses for not being able to deliver on those promises, stressing that General Buhari was voted for durig election for betterment of Nigeria people and other thing aside this purpose was irrelevant and unacceptable.
CHRSJ, while reacting to the position of some eminent Nigerians that the people of the land should not expect miracle from incoming administration of General Buhari, through a signed Statement by its Executive Chairman, Comrade Adeniyi Alimi Sulaiman, which a copy was
made available to newsmen in Lagos yesterday, disclosed that Buhari promised heaven and earth for the people of the nation during the electioneering campaign exercise which endeared people to vote for him(Buhari) massively during the March 28th, 2015 Presidential
election and it would not possible for Buhari to renege on those promises after winning the vote of the people.
Comrade Sulaiman who disagreed with the proponents of the non- expectation of miracle from Buhari's government, declared that with the huge resources endowed the country, there was no way the incoming administration would not be able to deliver on its electioneering promises, stressing that bad leadership was the bane of the problem facing the country over the years.
Coming back to plead with Nigerians for indefinite time to fix the country and also said otherwise would not be tenable before the Nigeria public, noted that kind of people in his(Buhari) government would show the kind of government, people should be expecting from him, advising General Buhari to choose the people of high integrity and corruption-free personality into his government in order to give him leeway to deliver on his electioneering campaign promises and he should be ready to step on toes before he could achieve the good targets of his administration.
Further supporting his position with the Biblical verse of King James Version in Proverbs Chapter 28 verses 18 and willie Jolley respectively that "where there is no vision, the people perish and where there is vision, the people flourish" and also quoting late Emeritus Professor of Literature, Chinue Achebe that "The Nigerian problem is the unwillingness of its leaders to rise to the challenge of personal example, which is the hallmark of true leadership"
His words:" General Muhammadu Buhari had known the mirage of problems facing the country before he offered himself for election and nobody should be saying that Nigeria should not be expecting positive action from him. He should let his previous experience as former Head of
Military junta to bear so as to fix Nigeria problems within the shortest possible time of his assumption of office. It is a wishful thinking of all the authors of not expecting miracle from Buhari's government but Buhari promised to make Nigeria better within the shortest period of his government in power and anything short of this, is not acceptable.
"General Buhari must be ready to tackle the problems of unemployment, corruption, electricity, security, petroleum price and cost of governance, Naira/dollar disparity and host of other promises that he made with Nigerians during the electioneering campaign. We want to
advice Buhari to do away with cabals that used to hinder the positive plans of political head of government in Nigeria and he must know that
the good governance where dividends of democracy will be for generality of the people is beyond mere paper work and rhetoric, it requires a good wisdom, vision and determination to deliver good work for the people within the elected tenure of office.
Commenting on the recent presentation of Strategic plan by the former Nigeria President, Chief Olusegun Obasanjo to General Buhari, CHRSJ
boss described the former president action good radiance to bad rubbish, explaining that Obasanjo that failed to put Nigeria on the
right pedestrian of nationhood for good eight years between 1999 to 2003 as Nigeria democratically elected President, now turned to Special Chief Strategist for President elect(Buhari).
Signed:
Comrade Adeniyi, Alimi Sulaiman
Executive Chairman, Centre for Human Rights and Social Justice (CHRSJ)
08038591504 & 08022697573
Email-socialjusticeequity@gmail.com