Must Read Christmas Themed Story By A NewsWireNGR Reader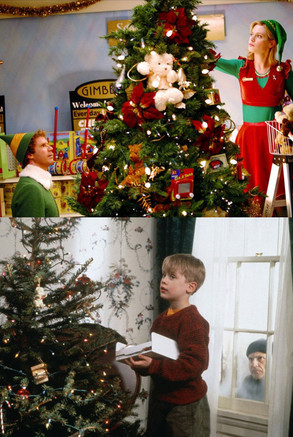 The Ghost of Christmas Now.
"Why won't you travel?" Chimezie asked me again as he took a swig of his chilled beer. We were sitting in a cavernous but empty bar. We are the only "customers" in that bar; actually, Chimezie was the only customer because I was not taking anything. I was intensely preoccupied, too preoccupied to enjoy my favorite bottle of Guiness stout. I could not even order anything. Chimezie's voice echoed through the bar making his statement sound distinctly judgmental like an angry god who has been denied a fattened animal sacrifice.
"You don't want to answer my question?"
Frankly, I was not ready to answer the question. We have had this discussion severally and I have often tried to let my best friend know that my travel down to the east was nigh impossible. Despite the fact that I was tired of Lagos and was tired of the consistently frustrating and oft-futile hustle, the merciless yet predictable traffic jam that has forced people to sleep in their offices and work in their cars and in transit, the rising expenses and the citizens who are cantankerous by default and by necessity. But still I cannot leave Lagos, not this christmas.
"Chime, I haven't gone home for more than three years now and there is a reason for that." It was more than three years but the actual number would be more embarrassing. I needed to save face. I have not seen my father's compound in Nkwelle-Obinagu since I came to Lagos in 2008.
"It is more than three years. I doubt if you can still find your way home." Chimezie stated calmly. His equanimity contrasted sharply with the bomb he had dropped on my head. I caught myself wondering if I could still remember my father's compound. Has the red gate been repainted? Is the udara tree still in front of my grandfather's obi? Has our one-storey building been painted? It was yet to be painted since I knew it. Chimezie's exaggeration was spot on, my cluelessness with regards to my roots was of hyperbolic proportions.
"I cannot just travel and start gazing at my people. They are expecting gifts and niceties from Nwa Lagos" I hit on my head furiously trying to clear the fugue that seemed to have clouded my brain, making it difficult for me to think clearly.
"For me o, I have no such compuction. I am leaving this Eko ndi mmuo on the 25th of December. Mgbe m ruo ulo, ha na-ele m, mu na-ele ha!"
I smiled at that. Misery loves company. It would have been more disastrous if I was alone in my hardship.
Chimezie's dark face and high cheekbones were set in a grim line. He was determined to travel.
"My guy, you know say Tfare for that 25th go reach 10k"
"I know"
"You go buy bag of rice, bread, wrapper for your mother and grandmother. Hot drink for your father…" I let my implications trail the sentence.
"My guy anyi agaghi agba oso na olu a" He sipped his drink again
"What if the Umunna decides to raise the issue of your marriage again?"
"Get behind me Satan!" His voice echoed through the bar.
He grabbed the beer by the bottle and swallowed the contents furiously. I had hit a nerve. Chimezie is the only "surviving" son of his parents since his brother travelled to overseas and disappeared for more than nine years and counting. The onus of sustaining the "Obi" was on him and the issue of his marriage was bound to come up again that christmas. It was inevitable. Yet I was sorry. However, in our relationship "sorry" was scarce. When either of us infuriates the other, it is often accompanied by an obligatory uncomfortable silence and whoever spoke next was admittedly in the wrong.
"Iya Funmi." I called out. A round dark woman with an inch long tribal mark adorning or rather scarifying her cheeks scurried towards me.
"Customer." The woman said offhandedly while wiping her hands on the folds of her bubba gown. The "customer" was supposed to be a greeting.
"Madam, give my friend another bottle of Gulder." The bottle of "Gulder" was actually a bottle of "sorry". Chimezie understood our peculiar ritual for he spoke next.
"Onyii. If we keep waiting until we have enough to see our families, we may never see them again. It isn't as if this Lagos is getting any better."
He has a point. My disillusionment is climbing to its climax. In 2008, I entered Lagos with big dreams but that dream has given way to disappointment. In a space of six years, I have moved from Maryland, a commercial hub to Agege, a town that is not famous for its industry and opportunities. The only thing famous about Agege is its bread, which is rather like an infamy. My relocation is a symbolic depiction of my fortune or misfortune in Lagos. It has not gotten better in those six years, It has gotten worse.
"If you have given up, I haven't." I said with a shallow bravery which failed to reach the depth of my conviction.
The rotund woman came back with a sweating bottle of Gulder.
"Customer, you no go take anything?" The question was directed to me. I thought about declining the offer but felt that it would be odd to offer Chimezie a bottle, without taking one myself.
"Madam, give am Medium Stout. Make he still dey dream." Chimezie said laughing boisterously. The madam smiled and left.
"So you think I am dreaming?"
"My guy, you no go ever win that Baba Ijebu lotto."
"You be winch?" We laughed.
Our attempts at lottery has been a running gag between us. We have even discussed what we were going to do with the money. Chimezie would use the jackpot to support his business, build a three-bedroom flat in the village and then get married. I thought about travelling abroad and investing the money in import-export business. However, we have never really won the jackpot, our closest was when I won #6,000. Ironically and conversely too, we have spent over #35,000 in our attempts to hit the jackpot. In Agege, money is often on a one-way traffic, it only leaves, it does not come back. Thus, wasting #35,000 in that part of Lagos is suicide.
"I hope you are not hoping on this Baba Ijebu lotto money to travel." I asked Chimezie sipping from my bottle of stout.
"I am travelling for this Christmas willy nilly. O buru ogwu na o ma ere." He snapped his fingers.
"Okay Nwanne. Safe"
"So, you are really not travelling?"
"My guy, bar no dey."
"So when bar go dey?"
"Make we dey look on to Baba God. Ife a na-eme adiro easy."
We fell into silence. My thoughts went back to my roots. I only maintained contacts with my people through phone calls and through the years, the frequency of the calls have reduced and by this Christmas, I have not spoken to my mother for two long months and my calls with my brother and two sisters have been virtually non-existent. We only keep in touch through the social media. I see their pictures all the time on facebook but pictures often fail to capture other developments. My younger sister will be getting married by March, 2015, she was merely eighteen years old when I left. The thought made me feel old, older than my twenty-seven years.
Nostalgia took me back to my childhood. We often travelled to the Village during any festivity. We travelled for Christmas Holidays, Easter Holidays and New Yam Festival. I could remember how an eight year old me ran around a white, old LandRover Jeep to evade capture by my grandmother who often insisted that Onyeka, that is myself, must be the one to wash plates every morning. The plates are often piled into a scary mountain because of the increased population of users who came home for the celebration and thus making my evasive maneuvers around the jeep understandable. I could also remember eating dried, hard, roasted corn and palm kernel with my late grandfather who always told me stories of the Biafran War and how the Late Odimegwu Ojukwu personally led them on a charge to keep the Nigerian soldiers out of Awka. He used to own a copy of Ojukwu's war memoir "Because I was Involved" but I strongly doubt that he had read it. His own account of the war differed markedly from the late Ojukwu's account.
"My age mates are building houses in the village." I said morosely. Chime just stared at me. He did not talk.
"The last discussion I had with my father was when he told me that Aloy, my agemate bought a car for his father and is getting married during this christmas. That same Aloy had just completed a one-storey building in the village."
"It is not a competition."
"I know" I was exasperated "But at least I need to start doing the basics. I don't want my family members to contribute Transportation fare for me when I have to travel back. I need to travel with bags not with polythene. E go fall my hand now."
"God forbid"
"You know rumors said that there is a malevolent spirit that is pervasive in Lagos. The spirit is said to ensure that anyone who comes to Lagos will not leave at all. The spirit is said to cause the peculiar behaviour of Lagosians."
I do not believe in spirits and ghosts but I do accept that the behaviour of Lagosians is peculiar. They are often noted for dishonesty and breaking promises.
"What do you mean by this cock and bull tale."
"I mean that you may never see your village again, the spirit must have possessed you."
In as much as I did not believe that I was possessed, Chime has a point, I may fail to see my family if I keep deffering the journey. Life is fleeting but death is certain.
I looked outside the bar, lost in thought. A boutique directly opposite the bar was extensively decorated. A fat inflatable Santa Claus waved at me from the shop trying to transfer some good cheer into my moody existence. In front of the shop, a Honda SUV stopped and a fair young lady in her early twenties alighted from the front seat and started entering the christmas-themed boutique. The driver, a pot-bellied dark man with an afro hair alighted bearing a fat brown wallet followed the young lady into the boutique. These sort of people do not worry about christmas and its attendant expenses. It is safe to assume that the pot-bellied man is not following the fair and beautiful lady into the boutique to count the wares inside.
"I can't go home, Chimezie." I said with finality "It will be a disaster. Christmas is about giving and sharing. So it is not for me because I have nothing to give or share."
"You can always share your self. I think your people will welcome the sight of you and may even help you steady your teethering life."
His suggestion was sincere but seemed defeatist to me.
There and then, I imagined myself as the biblical prodigal son coming home after six years of prodigality but cannot quite picture my father, a retired soldier welcoming me with open arms. Certainly, no fattened cow will be slaughtered for me and the only celebration on me would be to celebrate my emergence as the hottest topic for gossips of Nkwelle-Obinagu.
I looked at my friend, Chimezie and shook my head. He will never understand.
I will not go home for this Christmas. Maybe, I will travel for the next christmas. There will still be many more "Christmases."
"Hello…" My friend was speaking into his phone.
"What!" I heard him shout. I became tensed. He dropped his Nokia TorchLight phone on the table with a clatter, scattering it. The battery slipped from the rubber band that fastened it to the phone and went lose.
"What happened."
His eyes were blank, his mouth, open. He was in shock.
I reached across the table and tapped his hands slightly. He came to with a jolt.
"Chibyke just called me"
"Ehen…" I was getting impatient. He was not in shock because, the gangly, talkative Chibyke called.
"This life is meaningless." I wanted to slap him. People do not enter shocks because of a cliched bit of philosophy.
"Chimezie! What happened!!!"
"CY died in an accident"
"Which CY?"
"Kowasia"
"Jesus Christ!"
The easy-going stammerer.
The youngest boy in our line.
The handsome, boyish gentleman who always saw the lighter side of things.
Who was gearing up to travel home after seven years. He was recently settled by his oga after his service to him. Now, Kowasia will never travel home again. He will never hug his parents or his family again.
Life is fleeting but death is certain.
I came to a decision.
"Chimezie."
He just looked at me.
"When are we travelling?"