PDP To Atiku, Don't Allow Your Media Managers Destroy Your Legacy Says APC Is 'One Chance Bus'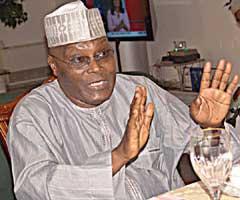 The Leadership of the People's Democratic Party, PDP have reacted to a statement purportedly signed and issued by former Vice President Atiku Abubakar against the PDP and the Presidency.
The PDP does not wish to join issues with Alhaji Atiku Abubakar, one of the founding fathers of our great party and two-time former Vice President. However, we want to caution his media managers to desist from associating him with propaganda, political mudslinging and character assassination that the APC has become notorious for.
We also wish to put on record that the Peoples Democratic Party (PDP) has deliberately chosen not to take on the person of any of its former members who are now in the opposition for the simple reason that we were members of the same large family, differences in persuasions of today notwithstanding. However, it is shocking that the leaders and members of the APC have gone on rabid attack on the Presidency and the leadership of the PDP.
In spite, we wish to state for the avoidance of doubt that we stand by our position that the APC is a party of selfish, religious and ethnic bigots pursuing a Janjaweed ideology.
The APC and its leaders are embittered that the PDP machinery has been able to effectively expose and profile them as they truly are. They are in pains that Nigerians now know that the APC has no agenda rather a platform for selfish individuals pursuing personal and parochial agenda using blackmail, propaganda and promotion of violence as means to achieve political control.
The APC leaders are bitter because they have been confronted with a PDP that is not afraid to label them in their true colour despite
personal threats, media attacks and character assassination to cow and deter us.
We wish to inform the APC that we shall not relent but continue in the overall national interest to expose their evil agenda including their
use of religion as a cover for narrow political ambitions.
On the issue of APC having an Islamic agenda, it is known to all and sundry that the the PDP never labelled it as such. We merely, in our
statement of January 7, 2014 drew the attention of Nigerians to the revelation by an Islamic cleric, Ambassador Yusuf Garba and the
Religious Equity Promotion Council (REPC) that the APC was seeking to impose on Nigeria, an agenda akin to that of the Muslim Brotherhood in Egypt.
In any case, we insist that it is completely out of place for any body to associate APC with Islam which is a religion of peace and does not
preach violence, greed, destruction and lust for power which are the trademarks of the APC.
We restate that some of these APC leaders by their utterances and conducts are not good Muslims. Besides, we cannot associate a party made up of anarchists bound together by the lust for power and desperation to rule by any means including promoting violence and division in Nigeria with Islam.
On the other hand, the PDP has committed muslims who are worshiping Allah in truth more than the APC. Many of the founding fathers and critical stakeholders of the PDP are Muslims. The leader of the administration of the PDP is a committed and dedicated Muslim. We have responsible and committed muslims as ministers, state governors, legislators and among our leaders at the national, state, local government and ward levels across the country. In this regard, no party can be said to have better respect for Islam than the PDP.
Our quarrel with the APC is their use of religion and ethnicity to canvass for votes and membership, a practice which is clearly inimical to the progress and development of our democracy.
Our final advice to the media handlers of our esteemed former Vice President, His Excellency, Alhaji Atiku Abubakar is that they should
remember that we were once together and shared great vision. In spite of any personal interest, the PDP as a platform remains better than the APC. Indeed the APC is not an alternative. It has no vision and is completely lacking in ideology. It is unfortunate that our former
members have chosen to board the wrong vehicle, indeed, 'a one-chance bus'.