Peter Obi reacts as Soludo renames Anambra airport after Chinua Achebe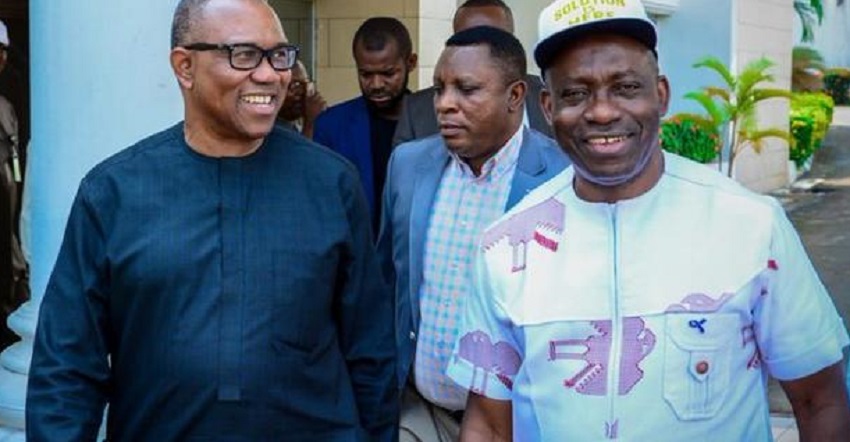 Prof Chukwuma Soludo, the Anambra State Governor, has announced the renaming of the Anambra International Airport after late literary icon, Professor Chinua Achebe.
Soludo revealed this during the Independence Day celebration at Dr Alex Ekwueme Square in Awka, the state capital.
Soludo stated that it was heartwarming that a good number of those who contributed to the independence of Nigeria in 1960, have had varying degrees of projects named after them.
He, however, noted that almost all the projects were named after public office holders, saying his government would break away from the norm to recognize Achebe by naming the Anambra Airport after him.
"We must signal that you don't have to hold political positions to contribute to the advancement of our civilization.
"Henceforth, we shall be deliberate in fishing out and celebrating our largely unsung heroes, as motivation to our children and youths in terms of what matters, including distinguished teachers, medical and other professionals, persons of honesty and integrity, philanthropists with known sources of wealth, entrepreneurs/job creators, community leaders/developers, clergy with great devotion, etc.
"An example of Africa's unsung hero is the late Professor Albert Chinualumogu Achebe.
"Achebe was not a President or Governor or Minister. He did not build bridges, roads or airports. But he will outlive most presidents, governors or ministers.
"Achebe gave African literature an identity and a voice. In a way, he rightly reconstructed and redefined who we are and we will never forget. Indeed, he was not an Anambra hero, nor a Nigerian hero. He was an African and global hero, and yet largely unsung at home.
"Consequently, we will rename the Anambra International Cargo and Passenger Airport, Umueri, to CHINUA ACHEBE INTERNATIONAL AIRPORT, UMUERI. Yes, it has to be an international airport, and we hope to work with the Federal Government to give full effect to its international status," Soludo said.
Peter Obi, the 2023 presidential candidate of the Labour Party (LP), has, however, applauded Governor Soludo for renaming the state's International Passenger and Cargo Airport after the late Nigerian novelist.
Peter Obi, in a statement via X, said the move is a most delightful and welcome development, stressing that Achebe deserves all the honour that the state and nation can bestow.
The former Governor of Anambra State added that Soludo's decision aligns with the state government practice of naming public institutions after heroes of Nigeria and outstanding citizens.
He wrote: "The renaming of the Anambra International Cargo and Passenger Airport to Chinua Achebe International Airport, is a most delightful and welcome development. The late literary icon deserves all the honour that the state and the nation can bestow.
"Chinua Achebe's towering stature as a global literary pioneer and icon is deserving of such recognition. I congratulate the Achebe Family for the bestowed honour and Kudos to the Governor of Anambra State, HE Prof. Charles Soludo, for the timely and fitting decision, which is consistent with extant best practices. This latest gesture is in line with the practice of the state government naming our public institutions after our heroes and outstanding citizens.
"Examples include the public arena named after the former Vice President, Alex Ekwueme Square; the Chukwuemeka Odumegu Ojukwu University, the State Library named after Prof. Kenneth Dike and the science block at CKC Onitsha named the Prof. Chike Obi Building.
"The latest gesture is also consistent with Achebe's exhortation that we must, of necessity, tell our own stories. By telling his own story so well, Achebe also told the Anambra and Nigerian stories, hence this most befitting memorial."