Tunde Bakare, has said that he will never call Bola Tinubu "My President"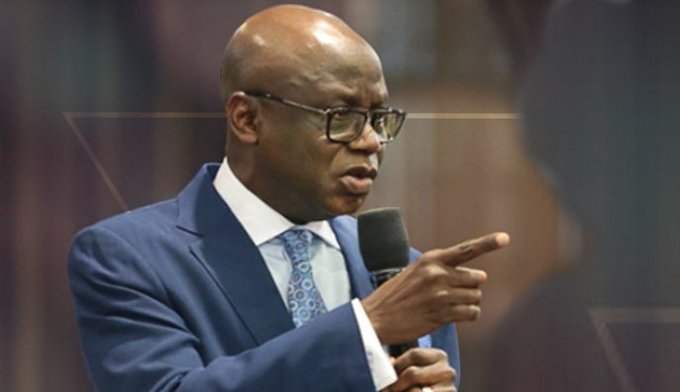 The Serving Overseer of the Citadel Global Community Church, Tunde Bakare, has said that he will never call President-elect Bola Tinubu his president.
The cleric and politician, during a webinar on Saturday, said INEC made a mess of the recent electioneering process.
He said these while responding during a question and answer session after delivering his speech on a Zoom programme organised by the PTB4Nigeria In Diaspora Group.
While speaking earlier during the programme, he said the 2023 elections were below acceptable standards.
When asked if he would be happy to work for the new government as a Minister of Diaspora Engagements, he laughed and said he would say what he told the outgoing President Muhammadu Buhari last week.
Bakare, who was once Buhari's running mate in one of the latter's earlier attempt at the Nigerian presidency, said he told Buhari that sometimes he called him President of Nigeria and other times, he called him "my President."
"Last Wednesday, I was at the Glass House where he (Buhari) has been restricted now because the main house is being renovated. I said I have done that for you. I want you to know that, because of the circumstances of your flying into power on the wings of integrity and incorruptibility, but you're now passing onto someone who does not have that value," the cleric told the participants.
He said that at "any public lecture anywhere, before this mess is cleared off, I will address Asiwaju as a president of the Federal Republic of Nigeria but I will never call him my president."
He said he didn't participate in the elections, and therefore, no one could say he lost in the exercise.
Bakare, who participated in the All Progressives Congress (APC) presidential primary election on June 14, 2022 and polled no vote, said: "I participated in the primary, and there were hundreds who participated only by stepping down, so there is no shame in what we have done. We spoke truth to power within seven minutes.
"I wasn't there when they voted, I wasn't there when they scored (me) zero, but we won that badge of zero and badge of honour."