Lekki Seaport will generate 170,000 jobs – NPA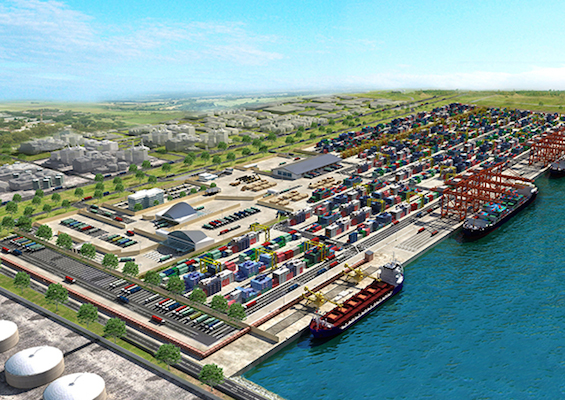 The Nigerian Ports Authority (NPA), says the Lekki multi-purpose seaport is expected to generate more than 170,000 direct and indirect jobs for Nigerians when completed.
The Lekki Deep Seaport was commissioned for operations by President Muhammadu Buhari GCFON on January 23, 2023.
The Managing Director, NPA, Mohammed Koko, disclosed this during their Special Day at the ongoing 34th Enugu International Trade Fair, organised by the Enugu Chamber of Commerce, Industry, Mines & Agriculture (ECCIMA), on Saturday in Enugu.
He said Lekki Deep Seaport was the deepest port in West Africa and would be a significant game-change in Nigeria's Maritime economy.
Koko, represented by the Principal Manager, Corporate and Strategic Communication, NPA, Lagos, said they would strive to be the leading port in Africa, a dream that can be realized through a collective commitment of trade development drivers.
"We will continue to collaborate with our partners in the economic development of Nigeria and we consider ECCIMA as partners in the development of the Country.
"The Nigerian maritime industry is a prime economic driver, bearing in mind that 85 per cent volume of economic activities are delivered through the ports worldwide as Maritime transport remains the main gateway to the global marketplace.
"I am highly excited that ECCIMA has continued to provide platforms and opportunities fo Entrepreneurs to emerge and thrive," Koko said.
The managing director further added that rail lines from the ports were being rehabilitated to ensure ease in the logistics chain.
"At the NPA, the Lilypond Terminal provides exporters the much-needed infrastructure to carry out their transactions at a reduced cost and time, thereby increasing their competitiveness in the international market.
"This is done to encourage the exportation of more locally-made goods, a move to boost non-export in the country and to ease supply chain constraints for export cargoes.
"We will continually give priority consideration to exportation of agricultural produce and Solid Mineral Resources which will in turn give exportation a boost in the nation's economy," he said.