Dr Hakeem Baba-Ahmed: Tinubu's APC self-destructs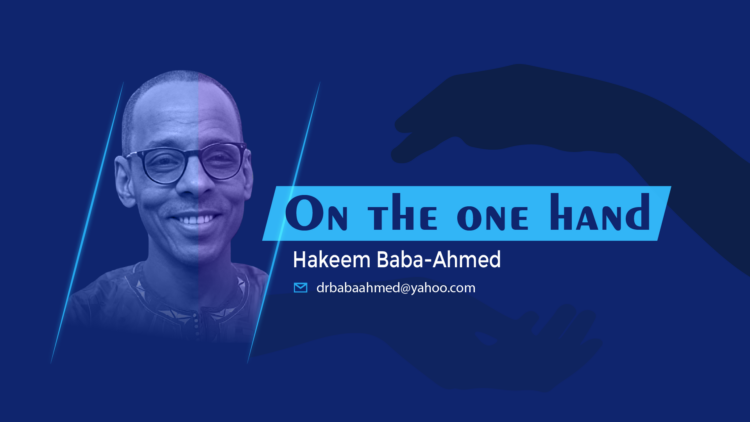 When two brothers fight, a stranger inherits their house. African proverb.
By the time you read this, there will be three days to the Presidential and National Assembly elections. By Tuesday 27th, the All Progressives Congress would be involved in damage assessment. The result of the ongoing civil war would show in votes, hopes and regrets. It would be the job of Nigerian voters to make the judgement over the party's performance, but the party leaders, managers, beneficiaries, stalwarts, and persons whose political careers depend entirely on the voter's verdict would be remembered as people who set the barn on fire on the eve of the feast. There are few innocents in this unless they are buried deep in the mountains of grievances and high stake manoeuvres. A party that was entitled to assume a fairly good chance of succeeding President Buhari's administration despite the gaping holes in the inheritance is left to scramble for crumbs from fights over its very foundations.
If the APC wins the presidential contest, it will almost entirely be the result of the weaknesses and failures of the opposition rather than its credible finish in the campaigns. Its candidate, Asiwaju Bola Tinubu has run the best campaign money can buy. If he does not become President, it will be entirely to the credit of the most damaging unscrambling of a party that had always been built on the ego and whims of one person, Buhari. Tinubu was the second half of a contraption meant to capture the power and make Buhari president. The moment that goal was achieved his portion of the influence in that contraption shrank to the size of the designs of the other owner. Buhari became APC, now managed by other beneficiaries and opportunists who crowded out Tinubu today and opened a bit of the door for him the next day. He did pick some of the spoils of the victory of 2015, including a rickety understanding that he would succeed Buhari as President. A deal to treat the leadership of the country like a relay baton, between two people defined and bound only by finely-honed ego and personal ambition waited for time and antics of palace fixers to be tested.
It has been a long race in which many spectators, officials and managers joined at will. The rules changed many times, except the one that kept Buhari ahead so that other participants in the race could benefit from being left to their devices. It was good enough for an increasingly smaller circle, except for Tinubu who now finds that he has fought for space among many others who have also assumed roles as kingmakers or powerful courtiers. It got worse for Tinubu when he found out that there was a scramble for his position as anointed successor. He must have remembered the borrowed phrase used by Buhari at his swearing ceremony which warned that he owed no one a debt, and was available to everyone. Many politicians would have walked away, murmuring treachery and betrayal. Not the old fighter that is Tinubu.Ego and ambition that matched Buhari's reinforced a strong sense of indignation, and he threw everything into a fight for what he believed was his but was about to be snatched by an assortment of all-comers. It was an expensive and bitter battle, made more difficult by the appearance of hostility at Tinubu's access to the ticket from Buhari. If Tinubu felt bitter that he was reduced to grovelling and deal-making with APC governors from the North, many of whom would not have answered his greeting a few months earlier, no one would have blamed him. By then the reality that Buhari was APC, and APC was Buhari must have firmly registered on Tinubu. He then had to fall back on a few northern governors who had learned the art of twisting arms from Buhari. They made their deal, went in, killed the notion of an anointed northern candidate in Buhari's grasp and made the ground a little more level for Tinubu. It was a key bend in a long marathon.
The nation watched a party in all its political disarray show the power of a few political fixers and tremendous wealth which bought power. Tinubu emerged from a bruising selection process and run into a storm over his choice of a Muslim as his running mate. The distinction between political correctness, principled stubbornness and risky foolhardiness was lost in his decision to run with a Muslim in a country that had turned faith into an expensive political commodity. Tinubu lost many friends and gained only a few over his choice of a Muslim running mate. Large sections of the targeted Muslim voters were not impressed. The Christian community was divided between seeing his choice as a supreme act of hostility, and others who saw it as a political risk they could live with. By the time Tinubu's expensive campaign to succeed Buhari left port, the impression of a party that had no respect for the loyalty or sensitivities of the population was spreading faster than insecurity under Buhari. It was already burdened by the empty legacy of the party's administration under Buhari. That means it had to start from below ground zero. To denounce the record of its own sitting president who was at best indifferent to its success at that stage was dangerous. To whitewash it and attempt to sell it to a nation that knew a lot better was to take a very poor risk.
Tinubu had to run on his own steam and manoeuvre between huge obstacles. He was running for the first time for the presidency against an experienced PDP candidate who just beat Buhari's record by running for the fifth time. The North was not going to be an easy ride with Atiku's presence there. His own primary constituency in the South West was going to require some work to substantially line up behind him. Labour's Parter Obi was going to eat deeply among offended Christian communities in the North, and its barricades in the South East were going to keep him almost entirely out. The South-South is up for grabs to all three, so he could not expect too much there. The appearance of some limitations on his health, real or exaggerated has not helped his campaign around providing a strong leader who will pull the country out of its current mess. The North is at best ambivalent against him.
Still, it would have been wrong to write off Tinubu's chances if the ongoing civil war in his party, which is compounding the misery of most Nigerians is not eating deeply into the sympathies of Nigerians for his party. The circumstance and events triggered by the implementation of the Naira redesign policy is a cruel turn of the knife at the back of the Tinubu project. Those who think the final rug has been pulled from under Tinubu's feet will not be blamed for being conspiracy theorists if the timing, the process and the high stake actions of the president, key appointees and governors cannot be proved as normal coincidence.
It will be difficult for Tinubu's campaign to avoid being smeared by a president who ignores the Supreme Court, a CBN governor who appears to live in his own world with only Buhari's photo on the wall, APC governors treating the constitution and the president with disdain, a distressed nation groaning under the additional burden and an election that is imminent. It appears that Tinubu himself has received the legacy of a party he helped form: a political contrivance around the ambition of only one man. He did inherit Buhari, but it will be a cruel trick if it turns out to be an empty inheritance.
---
Hakeem Baba Ahmed is the secretary, Northern Elders forum.
Disclaimer
It is the policy of NewsWireNGR not to endorse or oppose any opinion expressed by a User or Content provided by a User, Contributor, or another independent party. Opinion pieces and contributions are the opinions of the writers only and do not represent the opinions of NewsWireNGR