A train bound for Abuja from Kaduna derailed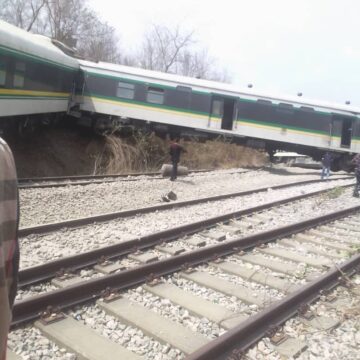 A train bound for Abuja from Kaduna derailed in the Nigerian capital on Friday. However, nobody died from the accident, a train official at the scene, who asked not to be named as he is not authorised to speak on the matter, told PREMIUM TIMES on Friday evening.
He explained that the incident occurred at about 3:15 p.m., about the time the train was supposed to arrive at its destination.
"The derailment occurred close to the station. There were no casualties and all of them (passengers) were able to disembark," he said.
Explaining how the accident occurred, the official said: "At the moment when the train approached a point when it was supposed to take a turn, it derailed from the rail line."
He said the cause of the accident has not been established.
There will be no further train travel on the tracks until the derailed train is evacuated, he said.
Another official at the facility who was onboard at the time of the accident confirmed that "Nobody (passenger) is here again. There was no casualty and there is no one at the hospital."
The accident is happening less than two months after the Abuja-Kaduna train resumed operations.