Over 200 million people live in Nigeria, the most populous country in Africa. With such a large population comes a significant discrepancy in available resources at the local and federal levels.
Recently, a publication on the situation of poverty in the heart of Africa was produced by the National Bureau of Statistics.
Utilizing a metric framework called the Multidimensional Poverty Index, the National Bureau of Statistics calculated the level of poverty in each state (MPI). The MPI is influenced by four main variables: shocks, living standards, work, education, and health.
The information for this study was acquired through a survey that involved compiling more than 50000 replies from a well-crafted questionnaire distributed across the country.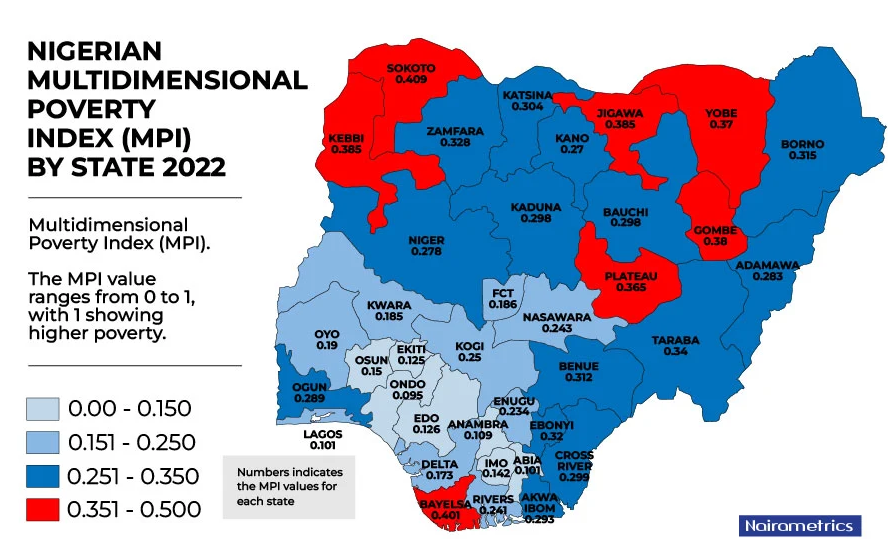 Given the changing context and national priorities, the Nigeria MPI (2022) survey questionnaire included additional pertinent factors, such as food security, water reliability, underemployment, security shocks, school lag, and child deprivations.
The number of multidimensionally poor people, 63% out of 133 million people, is one of the report's broad conclusions.
Below is a list of ten of the poorest states in Nigeria, and their MPIs
Sokoto: 0.409
Bayelsa:0.401
Jigawa:0.385
Kebbi:0.385
Gombe:0.380
Yobe: 0.370
Plateau: 0.365
Taraba: 0.340
Zamfara:0.328
Ebonyi:0.320
Disclaimer
The information in this article was curated from online sources. NewsWireNGR or its editorial team cannot independently verify all details.
Follow us on Instagram and Facebook for Live and Entertaining Updates.
Always visit NewsWireNGR for the latest Naija news and updated Naija breaking news.
NewsWireNGRLatest News in Nigeria
Send Us A Press Statement/News Tips on 9ja Happenings: [email protected].
Advertise With Us: [email protected]
LISTEN to NewsWireNGR PODCASTS