Atiku reacts after Obasanjo's endorsement of Peter Obi for President 2023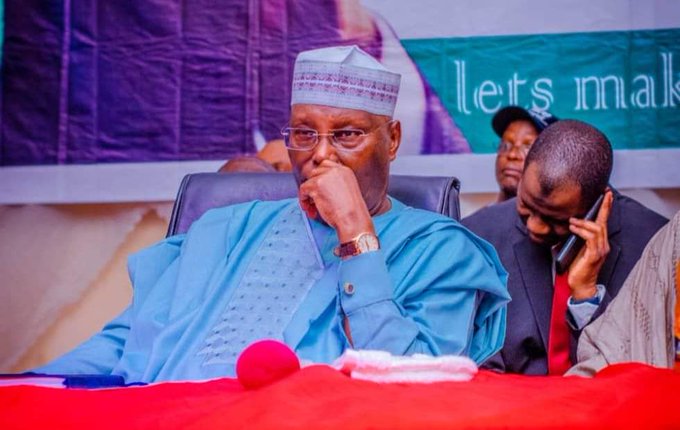 The Atiku/Okowa Presidential Campaign Organization, on Sunday, the endorsement of the Labour Party, LP, presidential candidate, Peter Obi, by former President Olusegun Obasanjo is his personal wish which does not reflect the opinion or "position of the overwhelming majority of Nigerians across the country."
Reacting to the endorsement, the Spokesperson of Atiku/Okowa Campaign Organization, Mr Kola Ologbondiyan said Obasanjo is entitled to his personal opinion.
Ologbondiyan said: "While former President Obasanjo is entitled to his personal opinion; as remarkable as it may appear, it remains individualistic and cannot redirect Nigerians from their determination to rally with the more experienced, more proficient and more accepted Presidential Candidate of the Peoples Democratic Party (PDP), Atiku Abubakar, to rescue and rebuild our nation from the APC misrule.
"What is surprising to majority of Nigerians is that in the face of the alarming challenges facing the nation, which requires a tried and tested hand, former President Obasanjo is suggesting a candidate that has not had any experience in governance at the national level.
"In any case, Chief Obasanjo's opinion cannot sway Nigerians who can easily remember how he endorsed President Muhammadu Buhari, whose administration, he (Obasanjo) now describes as "stressful years for many Nigerians," during which our nation "moved from frying pan to fire and from mountain top to the valley."
"It is, therefore, be extremely difficult for Nigerians, particularly the youth demography, to accept Chief Obasanjo's opinion as the solution to the myriad of challenges facing the nation today because the last candidate he introduced, by his own estimation, failed Nigerians.
"Our campaign holds that none of the Presidential candidates has the experience, capacity, tenacity of purpose, presence of mind and readiness to serve like Atiku Abubakar.
"Atiku remains the most widely accepted candidate, whose choice is not predicated by sectional, tribal, ethnic or religious sentiments or the endorsement of any individual, high or low, but by record of ability and performance, authentic vision, honesty and character; physical and mental capacity; the very indices set by the former President.
"It is instructive to state that every claim by former President Obasanjo on the success of his administration is a reflection of the performance of Atiku Abubakar as his Vice President and Chairman of the National Economic Council during which our nation achieved unprecedented economic growth to become one of the fastest growing economies in the world.
"It, therefore, amounts to a disservice for the former President to make subjective suggestion even when it is clear that if a hand like Atiku Abubakar with their shared experience is brought to the forefront of governance, our nation will be rescued from this current sullen state
"Our Campaign, therefore, urges Nigerians not to be distracted by subjective opinions but to remain focused on the resolve to salvage our dear nation by electing Atiku Abubakar as the next President of Nigeria, in February 25, 2023."