Lagos police arrest two fake visa dealers, retrieve 33 passports of four countries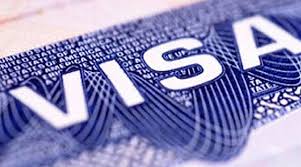 Lagos State Police Command has arrested a 42-year-old fake visa issuer, Peter Oghenekome, and his 57-year-old accomplice, Friday Boro, in Satellite town, Lagos.
The duo have been issuing fake visas to different nationals for years before their arrest after a victim raised an alarm.
  
Items recovered from Oghenekome and his accomplice include, 18 Nigerian passports, nine Ghanaian passports, four Camerounian passports, two Eritrean passports and one seal.
  
Speaking with newsmen, spokesperson for Lagos State Command, Benjamin Hundeyin, said: "We arrested the suspects after someone was issued a visa and decided to do further investigation on it and he discovered that it was fake.  "The man reported to the police and we arrested the agent, who took us to Oghenekome.
"On interrogation, Oghenekome confessed to have done visa for many people. We also found passports with him and he was processing a fake Guatemala visa for another client.

"He claimed that he started by processing genuine visas for people through embassies, but later started doing it. He got so familiar with how it's done and felt it was something he could do. He got the seal and hence started producing visas. Unfortunately, two Camerounians he did Guatemala visas for, were arrested in Turkey en route to Guatemala, and Turkey immigration officials saw the visas and contacted the Guatemala embassy in Turkey to confirm the authenticity and the immigration in Turkey confirmed that they were fake and deported them to Cameroun and they have been in prison ever since.

"They were jailed not because they are drug peddlers, but somebody gave them fake visas he charged so much for.
"I decided not to hide their faces so that anyone who has patronised them should go and double-check to prevent running into trouble and being jailed in another country.