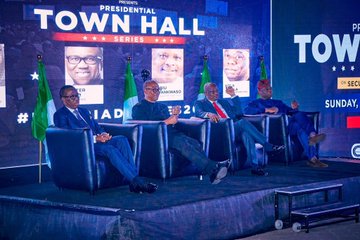 Drama ensued at the presidential debate organised by Arise Television and a group, Centre for Democracy and Development on Sunday as supporters of the Labour Party disrupted the event for some minutes over the inclusion of the vice-presidential candidate of the Peoples Democratic Party, Ifeanyi Okowa.
The supporters who earlier said they would not allow Okowa to represent the PDP presidential candidate, Atiku Abubakar at the debate, later asked Obi to leave the venue.
"Mr Obi, please talk to your supporters," the anchor of the programme, Reuben Abati was heard appealing to the LP candidate to appeal to his supporters.
Obi however denied those disrupting the events were his supporters.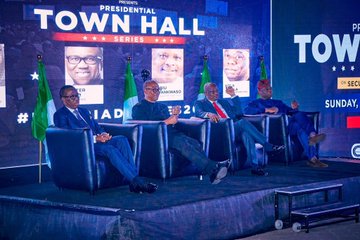 Peter Obi, the presidential candidate of the Peoples Democratic Party, called out Dino Melaye at the presidential town hall meeting organized by Arise TV on Sunday.
Trouble started after Dino Melaye was captured calling an attendee of the meeting 'Obi people.'
As one of the attendees stood up to question the presidential candidates, Dino was heard saying "Na wa o, Obi people."
On hearing the words of Dino, Peter Obi snapped at the PDP official.
Peter Obi spoke harshly from his seat, saying: "Stop that Dino. Why are you always calling me? I won't take that. This man is from ANPP. Why are you calling him Obi people?"