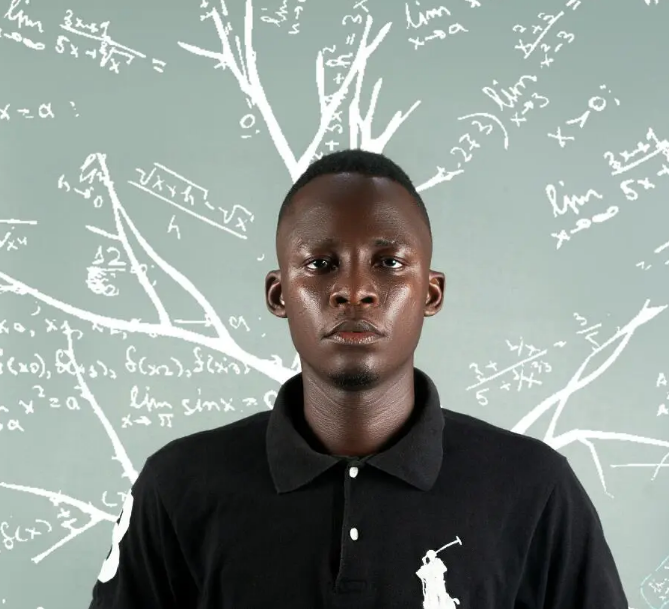 By Balogun Kamilu Lekan
Scott Flansburg, an American dubbed "The Human Calculator" made the Guinness Book of World Records for speed of mental calculation because of his swift ability to solve calculations in his head in seconds.
It seems his time is up with the record as a Nigerian is up to the challenge
Tella Michael Jolade, a graduate of Lagos State University, caught the attention of the public when one of his videos went viral.
In the clip, Tella was seen giving answers to mathematical calculations dictated to him.
Tella, also called "Nigerian Human Calculator" studied Geography and Planning is an indigene of Abeokuta in Ogun State. 
According to him, he said he noticed how well he felt comfortable using numbers at a very tender age when he memorized the seamlessly memorized multiplication table.
I noticed that I could play with numbers since I was very young. I could still remember vividly when I was still young then, my mum used to tell me that I should memorize the multiplication table, I noticed that by the time I want to start going through the table , it is possible for me to say the number offhand without making  mistakes but it was very hard for me to explain then and funnily enough my my parents never knew that I can do amazing things with my brain and I did not tell them because I don't know how I will explain it to them. He said.
When asked in an interview if he was in competition with the likes of Neelkantha Bhanu Prakash, an  Indian, who is also known as World's Fastest Human Calculator. He said "Bhanu has really made name for himself, and that, for me, is a good one. But Tella Omojolade is a monster at what he does. I've learnt that multiplication, addition, subtraction and division are very important elements of being a human calculator. I see beyond that, anyway. I'm presently working on understanding how everyday numbers work — from 0-9. I doubt if there's anything that makes me happy than making new discoveries with numbers. For me, figures have become an obsession, addiction and the love of my life"
He also stated that his role models are Philip Emegweali, the Nigerian programmer who built the fastest computer, Donald Trump, Robert Kiyosaki, Mr. Jeoarioge Olaniyi, and Keanu Reeves
On his future, Tell said, "My futuristic intent is to become a programmer and a data analyst, and also to teach people the simplest way to do what I do if not up to my level, that is one of the ways I can give back to the society."
---
Disclaimer
The information in this article was curated from online sources. NewsWireNGR or its editorial team cannot independently verify all details.
Follow us on Instagram and Facebook for Live and Entertaining Updates.
Always visit NewsWireNGR for the latest Naija news and updated Naija breaking news.
NewsWireNGRLatest News in Nigeria
Send Us A Press Statement/News Tips on 9ja Happenings: [email protected].
Advertise With Us: [email protected]
LISTEN to NewsWireNGR PODCASTS