Watch the emotional moment two Nigerian ladies, Staff of an eatery in Amsterdam Recognised Davido who had disguised to order a meal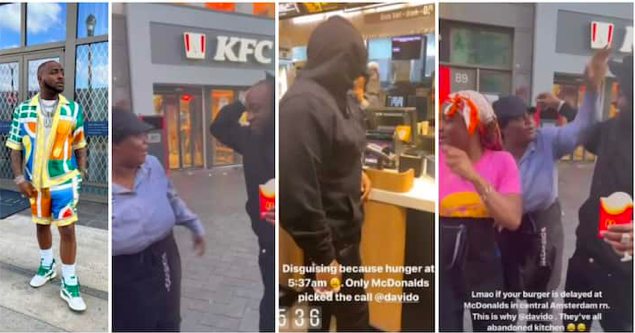 A viral video shows the moment two staff of an eatery in Amsterdam discovered singer David Adedeji Adeleke popularly known as Davido has gone viral.
A caption on the clip on Instagram indicated that Davido had rocked the disguise as hunger forced him to step out at 5:37 am and call at a McDonald's fast food in Amsterdam, Netherlands.
In the disguised outfit, the singer could be seen in an all-black and had a cap and hood on. One of the ladies in blue long sleeves quickly referred to Davido as 'Papa Imade' while ordering him to take off his hood so she can see his face properly.
Upon confirmation, the other staff screamed for joy and had to be held by the first lady who urged her not to shout and that she should go and bring a phone. While the second lady struggled to take a picture with him, the lady in blue sleeves continued to engage Davido and enquired about his kids.