Earthquake in Afghanistan kills at least 1,000 people, injures 1,500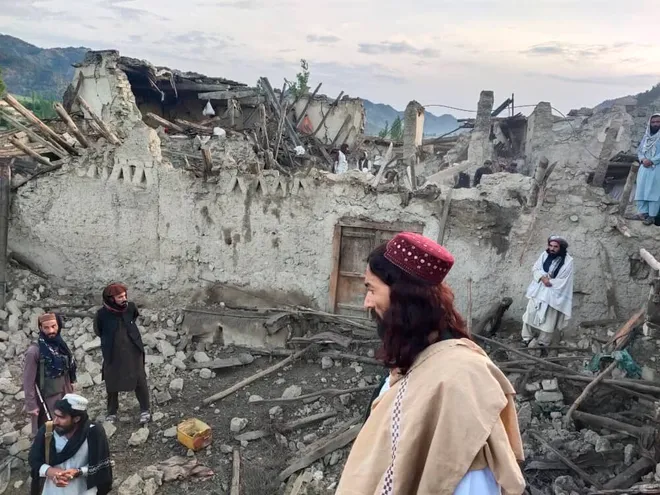 A deadly earthquake which occurred in Eastern Afghanistan on Wednesday has claimed at least 1,000 people's lives while more than 1,500 were injured according to a Taliban official.
According to a report by BBC, the earthquake struck about 44km (27 miles) from the south-eastern city of Khost shortly after 01:30 local time (21:00 Tuesday GMT), when many people were asleep at home.
"Every street you go, you hear people mourning the deaths of their beloved ones. Houses are ruined," a local journalist in badly-hit Paktika province was quoted.
Earthquakes tend to cause significant damage in Afghanistan, where dwellings in many rural areas are unstable or poorly built.
Aftermath pictures of the deadliest earthquake to strike Afghanistan in two decades show landslides and ruined mud-built homes in eastern Paktika province, where rescuers have been scrambling to treat the injured.
Taliban leader Hibatullah Akhundzada said hundreds of houses were destroyed and the death toll was likely to rise.
The head of information for Paktika province, Mohammad Amin Hazifi, confirmed to the media that 1,000 people had died and 1,500 are injured.
Rescue teams are still searching for others buried under the ground, he added.
Speaking to Reuters news agency, locals described horrific scenes of death and destruction in the aftermath of the late-night earthquake.
"The kids and I screamed. One of our rooms was destroyed. Our neighbours screamed and we saw everyone's rooms," said Fatima.
"It destroyed the houses of our neighbours," local resident Faisal said. "When we arrived there were many dead and wounded. They sent us to the hospital. I also saw many dead bodies."