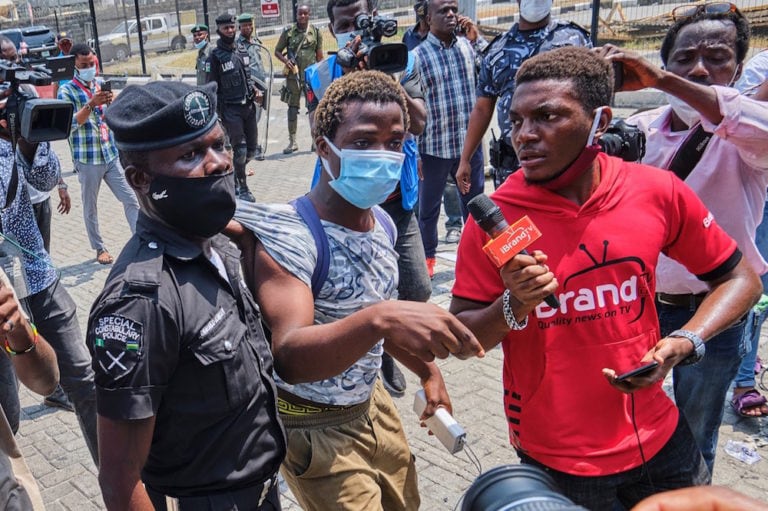 By Sultan Quadri
For Daniel Ojukwu, being a journalist in Nigeria means he gets harassed, arrested and thrown in a cell for doing his job with the full backing of laws, albeit poorly drafted and outdated, that threatens freedom of expression in the country.
Daniel had written a story on a Christian cleric, Pastor Chima Enukoha, who sexually assaults underage girls, but he didn't know he would have to fight for his freedom and that of his sources in the coming days. The accused fought back, with the help and assistance of the police force, known for brutal force.
After speaking with the ladies, he compiled his report and reached out to the cleric on different occasions – via calls, WhatsApp, Facebook and on all occasions he declined to comment.
Daniel noted in the article that he "attempted to reach Pastor Chima for comment, but he said he had nothing to say and that we go ahead to publish the story".
"What's more, he sensed he was baited by the cleric when he asked what he wanted after the story was published, "I sensed a bribe, so I told him I was not interested," Daniel told NewsWireNGR.
He thought that was the last time he would hear from the cleric but weeks after publication, he heard he had gone to harass his sources, even though none of the sources was named in the story. "He went after the sources, which shows that he knows what he has been doing. It was obvious when he went after his victims."
As though that was not enough, he sought the assistance of policemen from the State Criminal Investigation Department, Panti Yaba, Lagos, to arrest his source, her friend (who was also a victim) and her family, her father and mother. After taking their statement, they let her friend and family go.
When Daniel heard that his source was arrested, he went to Panti, as the police department is popularly called, and went down to the legal department to secure the release of his source. He had found out that they were all arrested without a warrant and their phones were also seized without a warrant. But he would be shocked with the petition that was written against him, the threats and the subsequent actions.
While trying to secure the release of his source, one Inspector Mike requested for his presence. He threatens to arrest Daniel for publishing his story. "And I said to him, " What are your charges? If this man has issues, he should go and take the story, his side of his story was there. And if there was any wrongdoing, it was a civil matter," Daniel had told him.
Inspector Mike, who handles the fraud division at the police department, took him to the Officer in Charge (OC) who in a bid to legitimize his threats wagged a copy of the defamation act in Daniel's face, with threats and empathetic pleas for him to cooperate or he risks 22 years in jail.
Daniel had been pressured by different policemen to name his source, Daniel refused to formally name his source.
When he saw that Daniel stuck to his gun, "If this man has issues, he should go before a court and present his case," Daniel reiterated. Then the inspector showed him the petition the accused had submitted against him.
According to the petition, which Daniel said he saw briefly, he had been accused of rape, a threat to life, extortion of millions of naira. He was also accused of causing the cleric depression. Unfazed by the petition, Daniel suggested they take it to a legal court, but they refused. 
They seized his documents, docked him and held him behind the counter* from 12 pm to 6:30 pm. At 6:30 pm, they collected all his valuables and he was thrown inside a cell alongside his source. He requested for his phone to make a phone call but it was declined. Seeing his grim situation, hours later, he faked an asthma attack and was allowed to get out of the cell to request his inhaler. Instead, he texted his then editor, Paul Dada and some lawyers for help. Luckily, they were able to pull some strings, the DPP intervened and they were immediately released around 11 pm that night.
They were instructed to come the following day because they were going to a court, instead, it became the court of the police – the policemen had offered to resolve the matter for them with the accused around.
When he got there, it confirmed his suspicion that the entire ordeal was a result of a collision between the accused and the police. "When I got there, the accused showed up with his lawyer, he was distributing packs of chin chin. It was then I realised there was foul play. Because it didn't make sense before why the police were pushing a civil matter like it was criminal," Daniel said.
The already traumatized source was asked to sign an undertaking that stated she will not revisit that matter anymore. She obliged and even threatened Daniel for his responsibility in her ordeal in the presence of her aunt, a soldier, who also threatened to carry him down to Ikeja Cantonment and brutalise him.
As for Daniel, they gave him a two-week ultimatum to pull down the story from the website and was threatened with arrest if he didn't comply.
The story is still up till today on the website, and the police haven't revisited the issue since then.
Daniel can be said to be lucky, unlike the many journalists that had been illegally held for months or years in the past and those currently in the government's enclave for publishing critical reports on influential private and public citizens and institutions as well as the federal government.
So, it doesn't come as a surprise that Nigeria does not rank high in countries where freedom of the press is respected – in the 2020 World Press Freedom Index, Nigeria ranked 120th of 180 countries.
Data documented by ARTICLE 19, revealed that through the period of January to October 2020, there was an increase in attacks against journalists. In total, 60 journalists were affected in 51 incidents.
Three journalists have been killed: one by security forces during a protest in Abuja and two by unknown persons in Adamawa and Nasarawa states. Thirty-four journalists have been victims of assaults, including two female journalists. The assaults took place across the country, including in Lagos, Ondo, Osun, Abia, Anambra, Bauchi, Edo and Rivers states and the Federal Capital Territory (FCT). Eighteen of the 34 journalists were assaulted for covering the nationwide #ENDSARS protests against police brutality in October 2020. In ten cases, the police were the perpetrator. Twelve journalists have been arrested. Half of them were released after a few days, but six were charged to court, mostly under the Terrorism or Cybercrime act.  Three journalists were denied access to perform their work. Three media outlets have been attacked.  Four media outlets were fined for their coverage.
Many journalists and critics of government are currently being harassed, intimidated and undergoing trials for such offences as criminal defamation, under section 291 of the Penal Code and section 373 of the Criminal Code; cyber-stalking, under section 24 of the Cyber-crime Act; terrorism under sections 1 & 2 of the Terrorism (Prevention & Prohibition) Act; and treason under section 37 of the Criminal Code.
The Cybercrime Act has a long and violent history of being illegally used against journalists and critics
The Cyber-crime Act, adopted in 2015, was primarily supposed to have been aimed at protecting vital economic infrastructure from cyber-attacks, preventing fraud and fighting economic crimes. It is thus safe to say that the Cyber-crime Law 2015 was born out of a resolve to save Nigeria's image as a hub for the mentioned nefarious activities.
The law is relatively novel and is the first piece of legislation that was created to specifically deal with criminal threats and issues that comes with the digital age we all live in. It was enacted presumably to secure online security and privacy, to tackle cyber fraud and boost the country's digital economy, and has become notorious for its frequent manipulation by the authorities to silence criticism and dissent online. But instead, the act had been used by the federal government to selectively and violently target journalists, activists and critics of the government.
Jones Abiri was at work like every Tuesday of the week, on July 21 2016 when a dozen heavily-armed agents of the Department of State Service (DSS) arrested the publisher of Weekly Source newspaper, outside his office at 288 Chief Melford Okilo Expressway, Yenagoa, Bayelsa State. According to an investigation by Premium Times, eyewitnesses said they didn't read him his rights, did not produce a warrant before handcuffing him, raiding his office, before taking him into custody
This first arrest was the beginning of 700 days of illegal incarceration, that the journalist would have to endure due to allegations on terrorism, sabotage and cybercrimes.
After two years without access to his lawyer or family, in August 2018, local journalists and rights groups repeatedly raised his case until he was brought to a magistrate court in Abuja, and charged with allegedly demanding payments from oil companies.
The government maintained he was a militant, but no evidence was ever presented and the case was thrown out over a jurisdictional issue. A separate court at the time ordered the Nigerian government to compensate Abiri 10.5 million naira ($29,000) for violation of his constitutional rights. They have yet to pay.
In September 2018, Abiri returned home to Nigeria's southern Bayelsa state and reopened his newspaper. But he would not be free for long. In March 2019, he was summoned by the DSS for questioning and two months later arrested again; he was then charged with the same alleged crimes that were dismissed by the court in 2018. In late October 2019, Abiri was released on bail.
Despite being charged to court for allegations like cybercrimes, terrorism, sabotage, Aminu Kayode Alilu, chief federal counsel and lead prosecutor in the case, told the Committee for Protection of Journalists (CPJ) in a phone call in 2019 that the charges were linked to evidence presented to the attorney general's office, and were unrelated to Abiri's journalism.
Agba Jalingo, a journalist was illegally held in custody for 174 days violating the cybercrime act, as well as other charges like felony and terrorism. The publisher of an online newspaper, Cross River Watch, regained tentative freedom only after a Federal High Court in Calabar granted him a 10 million Naira bail. The charges against him were related to a story Jalingo had published alleging diversions of state funds by the Cross River State government. It is very important to note that the story had little to nothing to do with cyberspace, except the fact that it was published online. Yet, the circumstance was manipulated to mean that it is this charge that would aggravate the journalist's alleged crimes. Jalingo's ordeal is shared by many journalists and activists who have been victims of easy manipulation of the Cybercrime act.
Particularly, the provisions of Section 24 of the act has been the most potent tool to gag the media and silence dissent. Section 24(b) of the law which has 59 sections is the provision often manipulated to target critical journalists and activists. The section prescribes a prison term of up to three years or a fine of N7,000,000 for persons who knowingly send, using a computer system, a message that they know to be false, for "causing annoyance, inconvenience danger, obstruction, insult, injury, criminal intimidation, enmity, hatred, ill will or needless anxiety to another."
In early 2017, Oliver Fejiro, another journalist, published a series of stories alleging corruption at Sterling Bank on a news website, Secret Reporters of which he is the founder and publisher. After that, Fejiro would go on to battle a five-count charge of "Cyber Stalking," which was punishable under this section.
The Police arrested Fejiro, whose real name is Tega Oghenedoro, in Uyo, Akwa Ibom State on March 16, 2017, and flew him to Lagos after an overnight trip by road to Umuahia, Abia State, according to an account on Facebook, he posted at the time. They detained him for three days and confiscated his two phones, which have yet to be returned, he told CPJ in October 2019. Following his arraignment, Oliver was held for an additional month until he was able to fulfil bail conditions on May 11, 2017, and the case has since been dragging on.
"The last time I was in court was February 2020. I was scheduled to appear again by May 28, but the COVID-19 saga has made it impossible," Fejiro said in a WhatsApp interaction with MFWA last year.
Under penalties listed in the cybercrime act, Oliver could face up to 19 years in prison if convicted on all counts.
This harassment using laws and policies does not affect journalists, but any citizen that criticizes the government and the powerful in the country. On March 24, 2020, over 20 officers of the DSS in Abia State stormed the chambers of a lawyer and human rights activist, Emperor Gabriel Ogbonna and arrested him. The activist had in a Facebook post, alleged that the Governor of Abia State, Okezie Ikpeazu, had gone to a shrine to swear an oath of loyalty and secrecy to his predecessor.
Ogbonna was put before a Magistrate's Court in Umuahia on cyber terrorism charges on March 26, under Section 27(1) (a) and 18(1) of Nigeria's CyberCrimes Act. He was subsequently remanded in custody. Emperor Gabriel Ogbonna was released on a 2 million Naira bail on August 18.
On May 8, 2020, Saint Mienpami Onisha, founder of the news website Naija Live TV, was at home, when four masked men from the Department of State Services (DSS) stormed his home and carried him away at gunpoint. He was detained by the DSS in relation to his media outlet's report on the alleged collapse of a COVID-19 isolation centre in Kogi State, a report they claimed to be false. The security agency arraigned the journalist before a federal court on charges of publishing false news under section 24(1) b of Nigeria's CyberCrimes Act 2015.
Similarly, on May 22, 2020, the police in Kwara State arraigned before a Federal High Court in Abuja, the freelance journalist Rotimi Jolayemi, on a single count of causing annoyance, insult and hatred towards Nigeria's Minister of Information and Culture, Alhaji Lai Mohammed, contrary to section 24(1)(b) of the CyberCrimes (Prohibition, Prevention etc) Act 2015.
The charge was in relation to a critical poem about the Minister which the journalist composed and shared on a WhatsApp platform. Jolayemi went into hiding after picking up intelligence that the police were after him over the poem. On May 5, he presented himself at the State Criminal Investigation Department of the Kwara State Police Command to relieve his wife and two other relatives who had been arrested more than a week earlier. He was released on bail on June 16.
On August 17, 2020, Ime Sunday Silas was arrested by the Nigerian police, in Akwa Ibom State for his publication of a report, Exposed: Okobo PDP Chapter Chair Links Governor Udom's Wife with Plot to Blackmail Deputy Speaker. Authorities charged Silas with "cyberstalking." Silas's case was pending before the court at year's end. The law on cybercrimes had yet to be fully tested in the courts. Legislative interest and calls for regulating social media increased due to concerns it plays a role in accelerating rural and electoral violence.
None of these incidents did the government obtain a court order prior to the oppressive arrests.
The NBC repress and exact excessive control over broadcast stations
The hosts of Channels TV Sunrise Daily show, Kayode Okikiolu and Chamberlain Usoh resumed work on August 26, like every other day. Some days back the media organization they work for had received a query from the National Broadcasting Commission (NBC) on August 24th with queries into the television station's conduct of it Sunrise Daily programme between 7am to 9am of that same day.
The broadcast regulator queried them for not "thoroughly interrogating" the comments made by Benue State Governor, Samuel Ortom on the programme and a former Navy Commodore, Kunle Olawunmi. Governor Ortom said he was disappointed with the way the Presidency is handling the nation's security challenges while Mr Olawunmi had claimed that current members of President Muhammadu Buhari's cabinet are Boko Haram sponsors.
While NBC actions have always been directed at the broadcast station – a corporate entity, it was surprising that the presenters were "invited" to the body's office in Abuja to, according to sources who told NewWireNGR, remind them of the code of conduct.
The National Broadcasting Commission (NBC), is a government body responsible for regulating the broadcast media: radio and television, and it utilizes a code of conduct that has been used incessantly to fine, query and intimidate broadcast stations.
The past two years have seen desperate and intensified actions by the federal government to censor the media and freedom of expression in the country. Especially as the country is on a downward spiral, while grappling with a myriad of challenges.
In October 2020, the Africa Independent Television (AIT), Arise TV and Channels Television were fined for alleged "unprofessional coverage" of the EndSARS protests and the Lekki Shooting. Prior to that time, the NBC had imposed fines on Naija info Fm for comments by one of its studio guests, Dr Obadiah Mailafia, that some reformed terrorists had confessed that some northern governors funded the activities of Boko Haram.
In 2020, the Minister of Information, Alhaji Lai Muhammed repealed and re-enacted the National Broadcasting Commission (NBC)'s Code to include 'hate speech'. In June this year, the bill to Amend the NBC Code was presented before the National Assembly to include regulation of media houses and social media, with punitive measures attached for infringement of the Code. Already, section 2 (n) of the NBC Act gives the NBC power to impose sanctions.
In 2020, the National Assembly proposed to enact the 'Social Media Bill' to allow the Police determine who posts and what should be posted on the internet. It proposed to empower the Police to arrest and detain anyone for posting what it unilaterally believes to be fake, improper and offensive. The bill also aimed to empower the Police or the regulator to block internet access. The bill was abandoned midway after vehement opposition by civil society groups, journalists, individual activists and Nigerians, during the public hearing stage.
In an attempt, that was countered by the media with protests, what appears to be a resuscitation of the thwarted social media and fake news bills, the National Assembly is currently considering the amendment of the NBC Act to criminalise fake news and regulate the activities of broadcasting stations on the social media. The National Assembly also seeks to amend the Press Council Act to ensure that Nigerians obtain licenses before establishing press organisations. It also sought to give the president the right to appoint the chairman of the board of the Nigerian Press Council (NPC). It also empowers the president to appoint all other members of the board upon the recommendation of the information minister.
The push back had major newspapers across the country united by placing a banner at their front pages, with the picture of an individual with a sealed mouth – "information Blackout, read the caption that ran across the image, with a message below, "It's not just against the media….it's about society's right to know, your right to be heard."
In July 2021, the NBC told TV stations to limit their reporting of rising insecurity in the country and withhold details of incidents and victims, in a move widely criticised by the country's media and civil society groups. The regulator told the stations not to "give details of either security issues or victims of these security challenges so as not to jeopardise the efforts of the Nigerian soldiers and other security agents."
Journalists have been illegally prosecuted using defamation, sedition and other repressive laws
Nigerian journalists have been illegally harassed, detained and imprisoned for days, weeks and sometimes months under the guise of enforcing laws on defamation, sedition and terrorism.
Last year, the police arrested Carter, a presenter with the privately-owned XL 106.9 FM radio station, he spent a month in detention, during which he was charged with conspiracy and defamation. The charges stem from an article published in First Reports, which featured the audio of a phone call between two unnamed people that was critical of Akwa Ibom State Health Commissioner Dominic Ukpong's handling of the COVID-19 crisis in the state, according to the newspaper's report. The charge sheet seen by the CPJ, alleges that Carter "caused [the article] to be published," and that the article and recording were "false" and contained "defamatory words against" Ukpong. Despite, First Reports editor-in-chief Ita Utioh confirming* that Carter had never worked for the newspaper, and that the article in question simply reposted audio that was already circulating on social media. Carter faced a maximum sentence of two years in prison for conspiracy and the same for criminal defamation, and three years' imprisonment for the allegedly false and defamatory First Reports publication. In November, a magistrate court struck out the case for "want of diligent prosecution."
The police detained Oga Tom Uhia, editor of Power Steering, a magazine covering the electrical power sector, for weeks. The editor, who was 72 years old and had poor health at the time, was charged with defamation, based on a complaint by Minister of State for Power Goddy Jeddy Agba.
The Law of sedition has also been used to repress the media. In 2006, AIT (African Independent Television) , a privately owned television, was sued, following the broadcast of a program about the purchase of a presidential place that turned out to be defective.
Lawyers, media scholars and professionals fault and ask for a repeal of these laws
Inihibe Effiong, a lawyer that has stood as legal counsel for journalists Fejiro Oliver and Kufre Carter, believes the Cyber-crimes act has become a tool for oppression, used by politicians, leaders of the corporate world and other influential persons, including public officeholders.  Who have "exploited poorly drafted provisions of that act to clamp down on reporters, citizens and critics over views expressed by them, particularly on social media," the lawyer told NewsWireNGR
Inihibe, posited that the Cybercrime Act poses a great challenge and that "except that act is amended or expunged, it can be described as the most vicious attack on free speech in Nigeria."
Toeing the lines of Inihibe, Dr Akanni, a media scholar and senior lecturer, School of Communication, Lagos State University, asserted that these repressive laws must be repealed or amended. 
Festus Ogun, a lawyer and human rights activist based in Lagos, believes the recent spate of abuses of digital rights and media freedom are usually connected to the growing intolerance for dissents, "It now takes the authorities little or nothing to victimize journalists and critics using the instrumentality of law," he said.
Speaking with NewsWireNGR, he faulted section 45 of the 1999 constitution which empowers the National Assembly to make laws that are capable of violating the right to free expression and the press on the grounds of public interest, national security, public safety and public morality. 
He went on to say that laws made pursuant to Section 45 of the Constitution have been weaponized by the authorities to gag the press, persecute journalists and human rights activists and shrink the civic space. Laws on defamation, sedition, contempt, terrorism falls under this category.
"Since the Constitution fails to define public interest, public safety, national security and public morality, the ruling elites have enacted laws that give wide discretionary powers to encroach arbitrarily on the right to free speech. Painfully, they seem to be successful at it with the aid of these unjust and undemocratic laws," Festus explained.
Kehinde Ogunyale, a freelance journalist believes pushbacks from the media is crucial, "There should be continuous action to remind the government the importance of not enacting these laws." He maintains that media professionals cannot work under these conditions while encouraging lawmakers to reject repressive bills.