#BuhariMustGo protesters block Abuja airport road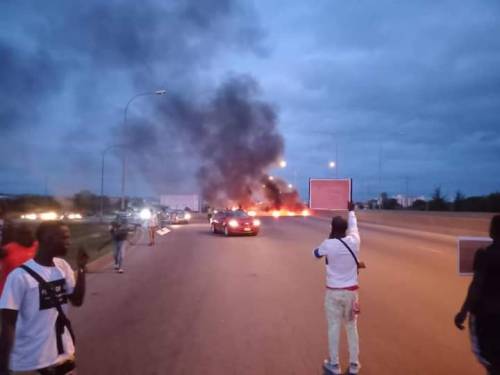 Protesters under the #RevolutionNow banner, on Monday, Marched in Abuja, demanding that President Muhammadu Buhari leaves office immediately.
The protest kicked off in the early hours of Monday, along the expressway that empties into the Nnamdi Azikiwe International Airport.
The protesters also erected bonfires on the busy expressway, bringing traffic to a crawl
The protesters, seen in a video posted by Omoyele Sowore, convener of #RevolutionNow, on Twitter, microblogging platform, were chanting "Buhari must go".
In the post accompanying the video, Sowore wrote: "#BuhariMustGo protest[ers] on the highway to the airport in Abuja this morning! No Rest for the wicked! #RevolutionNow."
Sowore had called for a nationwide protest asking President Muhammadu Buhari to vacate office on June 12 — Democracy Day.
Sowore and Olawale Bakare, his ally, were arrested on August 4 and 5, 2o19, for planning a nationwide protest.
They were both arraigned at a federal high court in Abuja after spending more than 100 days in detention.