2023: Mikel Obi promises support for Yahaya Bello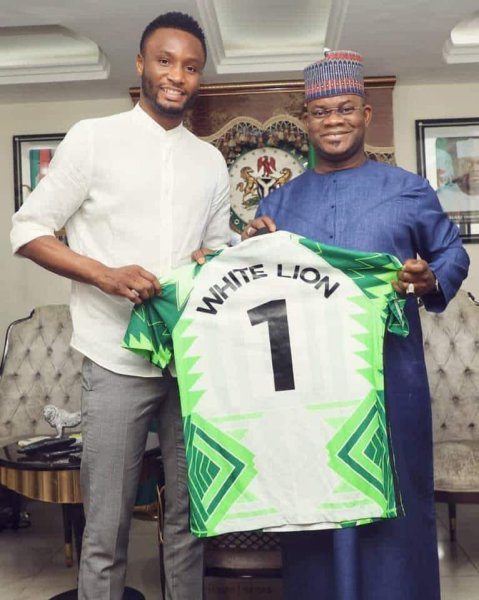 Former captain of the Super Eagles team, Mikel Obi has pledged his support for any future political ambition of Yahaya Bello of Kogi State.
He declared his support while on courtesy visit to the governor in Abuja on Sunday.
Obi said that it was time for the Youths to come out and take leadership positions across all boards for the betterment of Nigeria.
The governor, Bello has recently expressed interest in contesting for the seat of presidency in 2023 after he is done with his second term as Kogi governor.
In May, the governor had said "all Nigerians" were asking him to contest for the top job.
During the visit, Mikel praised Bello for "all the good things I have heard and read about him".
He said the governor is the "person to lead the youths", charging him to help the young generation pull Nigeria towards progress.
"It is an honour for me to finally meet his Excellency personally after all the good things I have heard and read about him from not just the people of Kogi State but from Nigerians," the former Super Eagles star said.
"My main aim is to come here to show my appreciation and to thank him for all the things he has been doing for the people and also to support him in whatever future political positions he wants to go into.
"I would like to be there to support him, to be there by his side through this journey for him to achieve whatever he wants, which is for the betterment of Nigeria.
"What better person to lead the youths than him, because he has been doing all these good works and that is why I am here to see whatever way I can come in.
"To get the youths together to know and see how we can make things better for our country and how we can align to achieve all that."
Reacting to the remarkk of Obi, Bello thanked his for the visit and his pledge to support the course for youth leadership.
He reiterated that it was time for the youths to take the opportunity that had presented itself.
He thanked the ace footballer for lauding his efforts in the state, noting that the security and welfare of his people and Nigerians remained his priority.
Mikel, who retired from national team duty in 2019, represented Nigeria for 15 years and made 89 senior appearances.
He played for Nigeria in two World Cups and was pivotal in the country's triumph at the 2013 Africa Cup of Nations.
The 34-year-old is currently signed with Stoke City on a one-year deal that is expected to be extended before it runs out in July.