Estimated Reading Time: 2
Twitter has suspended the accounts of several influencers in a massive purge.
The Twitter accounts of the influencers which are at least 8 became inaccessible to their followers on Monday night.
"Twitter suspends accounts that violate the Twitter Rules," the profile pages of these suspended accounts showed.
The affected influencer accounts included @valhalla_xo, @uncleMohamz, @volqz, @unclePamilerin, @Alex_Houseof308, @Tifefabunmi amidst others
Although no reasons have been given for the suspension, preliminary investigation by NewsWireNGR showed that the suspension might be linked to a campaign to free a certain Alex Saab.
Others claimed ignorance and said they only mentioned the name of the Alex Saab in a tweet.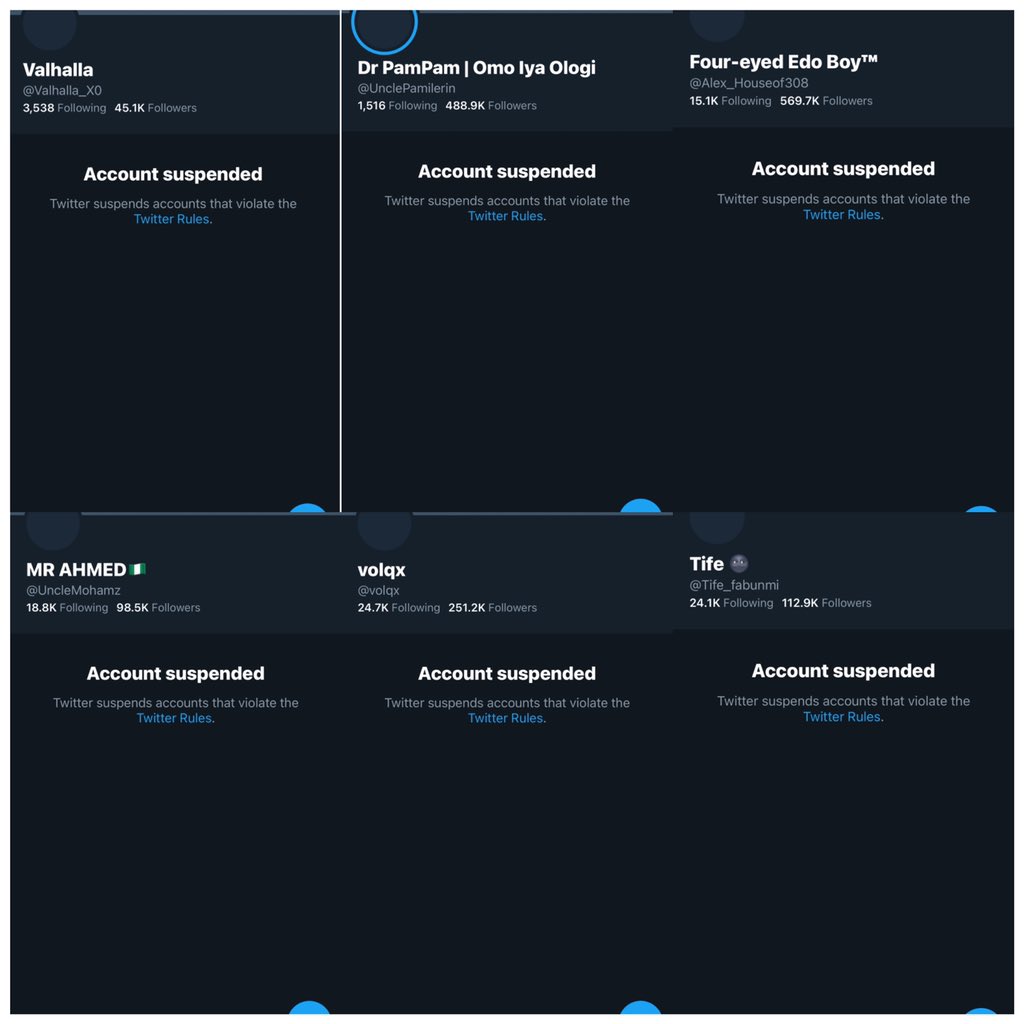 Alex Saab is a Colombian-born businessman who is being investigated by Colombian authorities for alleged money laundering, due to his relationship with the Venezuelan government between 2004 and 2011
An intelligence report from the Financial Times had claimed that the Venezuelan government is using fake Twitter accounts to sway public opinion and stop authorities in the West African islands of Cape Verde from extraditing its chief dealmaker to the US.
The report, a copy of which was passed to the Financial Times, analysed more than half a million Twitter posts related to Alex Saab, a Colombian citizen accused by Washington of running illicit fuel and gold trading schemes to help Nicolás Maduro's government evade sanctions.
The influencers, whom are not new to Twitter suspensions are however back on the space, rebuilding the follower base of their new accounts.
With Jack trending on Twitter since Monday night, the suspension has sparked a conversation on the restrictive and unclear rules of Twitter that may result to inexplicable suspension of accounts.
An influencer, @_AsiwajuLerry lamented that Twitter is a source of livelihood to these influencers and the suspension of their accounts is like taking away their means of livelihood.
Asiwaju, with almost 39,000 followers said he lost an account of 457,000 followers some months back.
Another influencer, @Elkrosmediahub who has recently lost an account with thousands of followers hoped that a new platform like Twitter emerges so they can leave the microblogging site like "we left Facebook".
@firstladyship warned other influencers to be careful of the kind of campaign gigs they take because they may be trending illicit drug or even human trafficking campaign unwittingly; for a token.