It is huge joke to blame current leaders for Nigerians hardship – Ebonyi Governor, Dave Umahi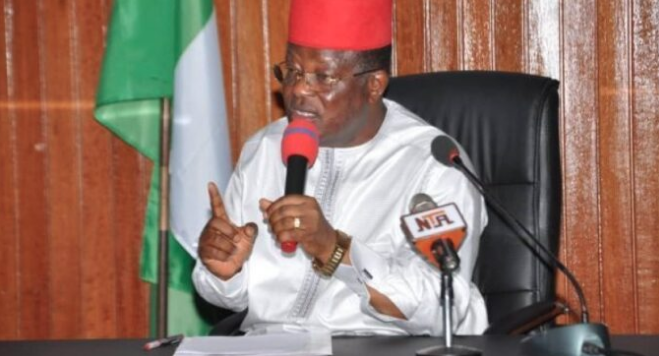 Ebonyi State Governor, Dave Umahi says it is a huge joke to hold any of the current set of leadership across the federal and state levels accountable for the hardship of Nigerians.
The Governor spoke at a Channels Television programme, Sunrise Daily on Thursday morning monitored by NewsWireNGR.
He said the challenges Nigeria is facing as a country today is because of the failure of past leaders to invest in the country when the country had a boom in revenue.
"I was sometimes in China and I saw so many story buildings not being occupied. I asked what these buildings are for and they said they are building it for their generation in the next 30 years.
"I remember there was a time we have so much oil surplus and all we could do as a nation is to do festivals; that is where FESTAC came up.
"So we did not honestly from Day 1 key into the future, we did not prepare the future for our children and that is what we are suffering now. If anybody believes that the suffering is just beginning because of the current leadership, that is a huge joke."
When quizzed on the steps the current leadership is taking to prevent a repeat of the same mistakes past leaders made, Umahi explaining with an analogy of a snake and a leaking said that the current administration met things so messy and has to take a long way towards recovery.
"If you get into a house, the house is leaking and you see a snake you have to first kill the snake and then fix the leaking roof."
"You can't place something on nothing and the level of decay and corruption that the present administration at both the federal and the subnational governments are quite enormous.
"So we are trying as government to see how we can kill the snake first, corruption, lack of patriotism among the side of leaders and the led.
"I believe that what the current government is doing is trying to fix the situation and prepare for the future."
Meanwhile, a report from online news platform, Peoples Gazette had in January alleged that Umahi, the governor of the poorest state in southern Nigeria had siphoned the state funds using his company, Brass Engineering & Construction Nig. Ltd.
Bank statements obtained by the Peoples Gazette showed that Brass Engineering received more than N3.6 billion between 2011 when he as a deputy governor to 2019.
The allegations showed the governor defaulted the law that prohibited public officers from conducting private businesses except subsistence agriculture while in office.
After publishing the report, the reporters at Peoples Gazette were at the receiving end of an intimidating call from an aide of the governor who pressured them to retract, delete the story or risk 'elimination'.