EXCLUSIVE audio recording reveals negotiation details of the Kagara School abductions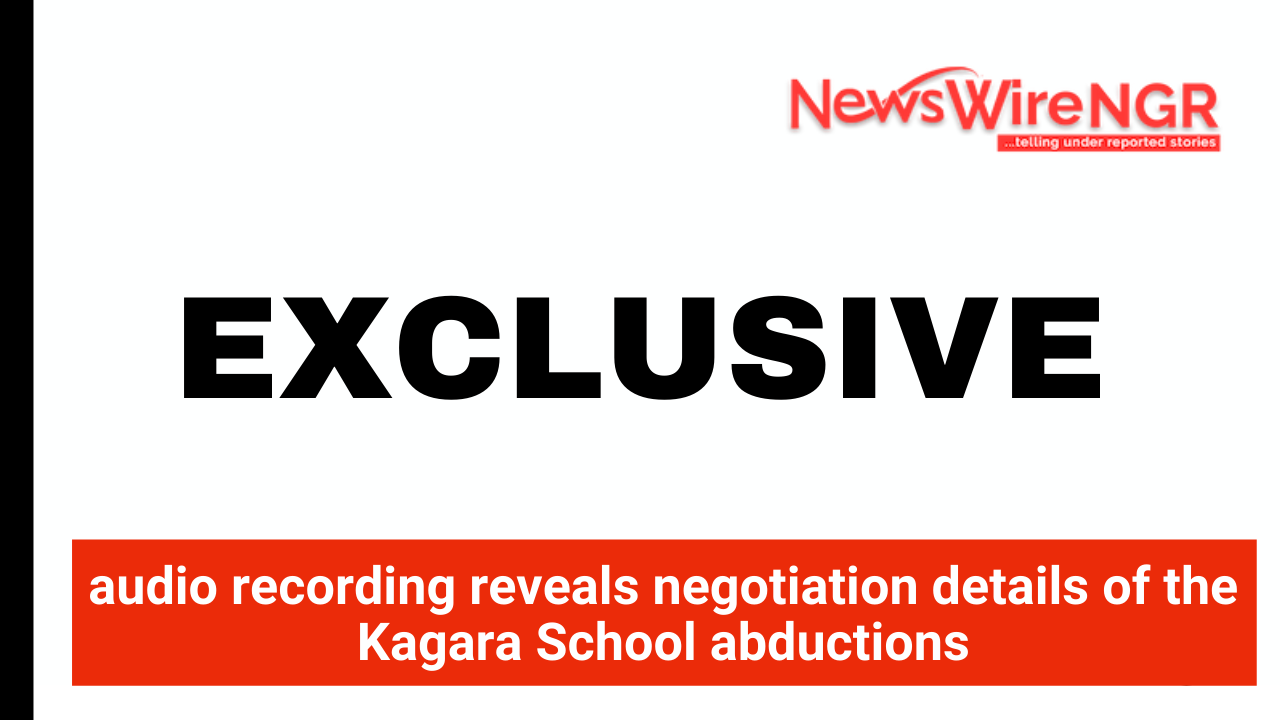 Estimated Reading Time: 5
At about 2:am on Wednesday, 17th February, staff and students of Government Science College, Kagara were awakened by gunfire as an armed terrorist group invaded the school premises, abducting 42 persons (staff and students included).
According to eyewitnesses, the terrorists had parked their motorcycles close to Attahiru Secondary School, a distance of one kilometre to the GSS Kagara. The witness also said to AFP, "When they (the victims) were being taken away, I saw that they were tied in pairs and marched to where the motorcycles were parked from where they were taken into the bush."
What followed was a flurry of news reports, government statements and actions by security agents to rescue the victims.
The Governor of Niger State, Abubakar Sani Bello, quickly ordered the immediate closure of all boarding schools in the bandit ravaged areas of the state, saying that it was necessary to save the life of the students as the areas have already been overrun over by banditry.
While there have been speculations about the abduction, government and non-state actors' involvement in negotiating their release, NewsWireNGR has received an EXCLUSIVE audio recording of some of the conversation that took place between the negotiator and abductor (The Identities of parties remains unknown) before the release of the victims.
The voice heard in the recording, speaking in HAUSA Language, was that of the terrorists threatening the Niger State government and mastermind of the the abduction of the Students at Government Science College Kagara.
While both individuals in the recording both spoke in Hausa language; NewsWireNGR was able to get a direct transcript of the conversation.
Man 1: If you don't have time for the children, then send the number of their father
Man 2: Okay no problem, whatever you say is what we will do
Man 1: If you know that you will not take the children, just tell me. No need for saying this and that
Man 2: I'll look for the parents and I would get their number
Man 1: You know that the children are very hungry and they need food and water. What are you people doing to me?
Man 2: If you want the number of their parent, I will find the number of the parents, but your will call them one after the other
Man 1: If you finish settling the security agents, whatever it is, keep my share
Man 2: Oga I don't like what you are saying
Man 1: You think I don't know what you are doing. I can list all the cars in that place
Man 2: What concerns me with the security agents, I'm not in that department
Man 1: I know what is happening there. That man that brought the business is there with you. Whatever you go and do, I'm watching you
Man 1: We come from God and to God we will return
Man 2: Even though you gather all the security in Nigeria, they are in my eyes, there is nothing I don't know. Whatever step you take, even not in Nigeria, I know and hear. I know everything that you are planning. You said they shouldn't give us money to buy guns now
If we don't have guns, they will send their men to kill us and our children
Man 2: I don't have hand in that matter, between me and God
Man 1: So what are we going to do now? Tell me so I continue with my business
Man 2: We had a meeting 2.7million*
Man 1: you sure you know what you're saying?
Man 2: you know (chairman/leader) whatever he says…
Man 1: we've never had a wicked chairman/leader like that before
You know whatever they will give us, half is what we agrees. I did not go to school but I have more experience in this than you do
Man 2: Yes I know you know more than me
Man 1: You went to school but I know more than you, just because I'm in the bush, even though you are literate, but I know more than you
Man 2: I'm begging you, I'm sorry
Man 1: I'm telling you, if you want peace to reign, if you don't want peace to reign, everything will scatter and spoil. I have men that will go there, and I will tell them what to do, even though I die, I don't want Tazare to be in peace
Man 2: We spoke yesterday, you did not sound like this what happened?
Man 1: I swear whatever way you come, I am equal to the task. Those people don't believe in the name of God, even though I release this people, I can eat and drink for the rest of my life. Even though Governors give you advice not to give us money so we can buy guns. Since it is God that is giving not man
Man 2: I swear to God, I'm not seeing the governor
Man 1: If you want peace, let peace reign, but if not, even though I die, there will be no peace. If you want record our conversation, whoever cares to listen, let them listen, if someone lies that they know my name, they should go and tell. Whatever I am saying now will be in history if they don't quit,. Whatever you are trying to do in that city is of no use. This bush that we are in, there is no fence that would stop them from coming. We are not in the city but in the bush, there is no place we don't know. All these things you are doing is of no use, if you don't seek for peace. All these thing is not on my head. Whoever that comes, you will say I was right. They gathered in that time in rainy season, what did you do?
Man 2: Nothing, we were like women
Man 1: You know how many people we got and how many remain? How many did you collect from Zamfara? And if you take care, you will still get more again
Man 2: By God's grace, we will settle this matter. You know you are dealing with government, not people like us. But me I can't drag anything with you.
Man 1: All these things you are saying won't change anything, unless you sit down and discuss about it. You know these people, I am giving them food, all these village around us, we can't go to them and get free food. Anyone that dies, I will just carry him on my back and dump them somewhere and call you people to come and carry
Man 2: Whatever you and the governor are discussing, it's me you are pouring your anger on. Make a way that is simple between me and you. One of the parents since this happened has been admitted in the hospital
Man 1: What concerns me? He should die, while the child is waiting for his freedom, or the child will die before him.