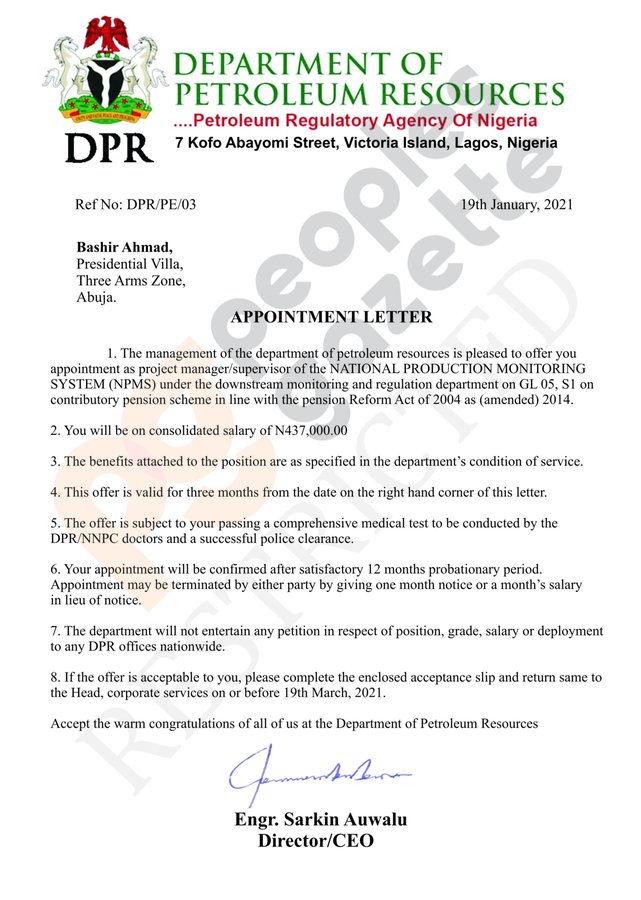 Online news platform, Peoples Gazette has published the alleged appointment letter of Bashir Ahmad, President Muhammadu Buhari's media aide into the Department of Petroleum Resources.
The appointment letter dated 19th January 2021 was signed by the Director of the DPR, Engineer Sarkin Auwalu. And it revealed that Mr Ahmad will be paid the sum of N437,000 as salary.
Recall that NewsWireNGR reported the allegation that Ahmad had been appointed to supervise a division at the Department of Petroleum Resources (DPR).
Peoples Gazette, an online news agency had reported the alleged appointment as an exclusive story on Monday morning.
The report said Mr Ahmad who has served as personal assistant to Buhari on new media since 2016 was appointed secretly to the role despite being unqualified.
The DPR is the petroleum ministry's department that enforces compliance with Nigeria's extant oil and gas regulations. It also approves and monitors oil licence in Nigeria, which is amongst the world's top oil producers.
The news platform which had earlier reported a similar allegation of the appointment of Buhari's nephew, Sabiu Tunde Yusuf as an assistant director at the National Intelligence Agency (NIA) said the appointment of Ahmad is "tacitly executed in line with Buhari regime's culture of opacity".
However, Ahmad denied the appointment through a social media statement just over an hour after the story was published.
Ahmed wrote, "A friend sent me a link to a concocted story from an online news blog that the President has quietly appointed me as a manager of the DPR, a department of Ministry of Petroleum Resources, for those who want to know the truth, the story is 100% FALSE. I am not a staff of the DPR."
Adding to the denial of the alleged recruitment, Ahmed said while replying to a tweet that he does not know where the DPR office is located.
"Calm down brother Gbenga, the story is 100% NOT true. To tell you the truth, I don't even know where DPR office is, the only thing I know it is in Lagos. That's all," he said.
Reacting to the alleged appointment letter, former journalist and Presidential media aide, Tolu Ogunlesi accused People's Gazette of forging the letter.