Kano State agrees to pay deducted salaries; reverts to 30,000 minimum wage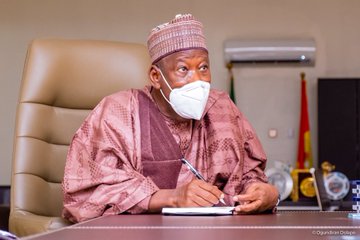 Estimated Reading Time: 1
The Kano state government has agreed to pay all salaries of Civil servants that were deducted in the previous months due to short Fall of internally Generated Revenue,IGR, occasioned by the Covid-19 Pandemic outbreak last year.
Chairmen of the Executive members of the Joint Public Service Negotiating Council JNC, Kano comrade Hashim Saleh confirmed this to newsmen last night thanking the state government for fulfilling its promise.
The chairman also commended governor Umar Ganduje's led administration for "respecting the agreement and returning to the full payment of worker's (N30,600.00 minimum wage) salaries which had begun last month."
Saleh therefore enjoined workers to reciprocate the gesture by discharging their duties diligently.
It would be recalled that the Nigerian Labour Congress, NLC and it's affiliates have been negotiating with the Kano state government and even issued a threat of strike over the deductions experienced by workers in the months of November and December last year.
The state government, however said the deductions were made to keep governance running, avert selective payment and possible sack of workers due shortfalls of IGR and Federal Allocations brought about by the impact of the Covid-19 Pandemic and promised to payback as soon as revenue improves.