Fake News and the Irresponsibility of Nigerian Elites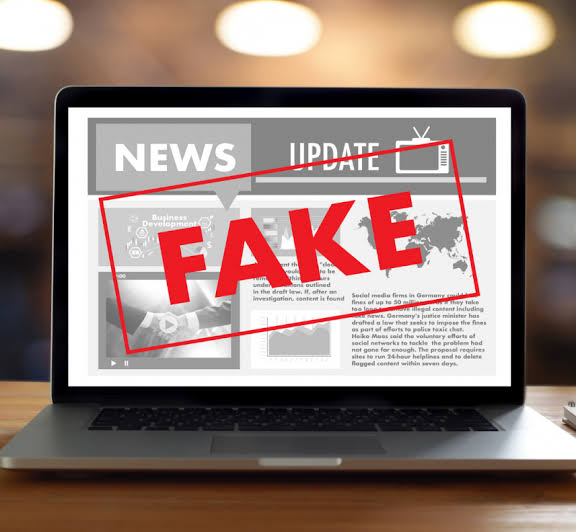 Estimated Reading Time: 6
By TO Faniran writes
With the rapid and continued infamy of fake news becoming a global pandemic, we must have yet another look at what this scourge holds for our society.
In recent times, we have seen how peddled lies have been used as tools to stir up people to violence and violent acts. Most recent is the violent attack on the US Capitol by a huge number of US President Donald Trump's supporters as Congress met to certify the election results that took place in November 2020.
President Trump had held a simultaneous rally in which he incited a mob that broke into the Capitol.
Weeks after the elections and the announcement of the results, President Donald Trump had peddled disinformation about the election, claiming there was widespread election fraud and that he won in a landslide. Trump's unfounded lies motivated his supporters to converge on Washington at his urging, the same day Congress met to certify the Electoral College results. At least 5 people, including a police officer, were killed during the fracas between President Donald Trump's supporters and US law enforcement agencies.
If not for the timely intervention of America's democratic institutions, the country risked the breakout of what could easily deteriorate into a civil war.
Here, it is quite evident how powerful fake news can be in the destabilization of society and this is a lesson that we all must take seriously to avoid such occurrence.
While it is pertinent to protect the freedom of speech and expression at all costs, we must also remember that upholding and promoting peace and stability is also a shared responsibility. And as such, we must bear the burden of responsibility that comes with free speech especially when it comes to falsehood peddling that can lead to injurious and violent actions.
In Nigeria, the debate over the regulation of social media is still ongoing and one must say that irrespective of the perceived motion behind the Protection from Internet Falsehood and Manipulations Bill nicknamed Anti-social Media Bill, it has become quite imperative that fighting against fake news should not be left to the government alone. Citizens must now take the calculative steps to join in the fight against fake news.
Nigerians must actively take it up as a responsibility to protect the integrity of the information that is being circulated and consumed by the public.
It also borders on the government and public officials both current and former, to make sure that they do not use their privileges to push false information as this most times have proven to be effective due to large followership, popularity, and credibility especially on social media.
We have seen that political institutions, governments at different levels, security agencies, and political office holders are not left out of the public nuisance that fake news peddling is.
One of such is the Chief Press Secretary to the Governor of Lagos State, Mr. Gboyega Akosile who in the wake of the #EndSARS protest shared a press release accusing protesters of shooting and killing Ikechukwu Ilohamauzo. He even went further to state the kind of bullets Ilohamauzo was shot with, all the while saying the autopsy had not yet been conducted. However, it was later found out that the story and Mr. Akosile's claims were unfounded, fake, and indeed mischievous.
Mr. Gboyega Akosile's actions are an example of falsehood peddling from the highest levels of the Nigerian government. It further highlights the friction between traditional media and social media as well as the distrust of the government.
Professor Chidi Odinkalu, a Nigerian Lawyer and Human Rights Activist and the former Chairman of Nigeria's National Human Rights Commission is one of the highly respected citizens who have been allegedly caught several times peddling fake news on the internet, such that could incite violence.
In one instance, professor Odinkalu posted a picture on Twitter claiming that one Folorunsho Olabisi was killed during the #EndSARS protests by security forces. He also went on to claim that the alleged deceased's body was found at the mortuary of St. Nicholas Hospital. The news was immediately debunked by the management of the St. Nicholas Hospital. The statement released by the hospital revealed that it didn't even own a mortuary.
In another instance, Professor Chidi Odinkalu posted a 2-year-old video of a violent confrontation in Edo state and captioned it "In Yenagoa, capital of Bayelsa State in the #NigerDelta of Nigeria, legislators are debating #OilMoney, I presume…."
Despite several calls by other members of the public, the said post has not been deleted, neither has the claim been retracted nor an apology issued to the public.
Yet another instance had Professor Chidi Odinkalu posting what would seem like a picture of a man heavily brutalized with a caption; "This is a Youth Corper in Kaura Namoda after he was allegedly set upon by Police…"
Further checks into the claim revealed that the picture of the alleged brutalized man was indeed a picture from a makeover session for a movie effect.
At a point, Guardian Nigeria had to fact check a video shared by Professor Chidi Odinkalu which portrayed election violence that he claimed took place in Edo state. However, a reverse image search on Google using video keyframes found a video of the same scene longer than Odinkalu's video published here on a YouTube channel on March 7, 2019.
The video was taken during the build-up of the Akwa Ibom governorship election between Nsima Ekere of All Progressives Congress and the incumbent governor, Udom Emmanuel, of the People's Democratic Party (PDP) in March 2019 and not the Saturday, September 19, Edo gubernatorial election between Osagie Ize-Iyamu and Godwin Obaseki, as claimed by Professor Chidi Odinkalu. Once may be deemed a mistake, but repeatedly posting fake news, at times without apology, appears to border on an obsession with misleading the public.
Long thought about, all of these put together would have any sane thinking person asking "why?". It takes a special kind of irresponsibility for individuals to cook up false stories and share them within and outside their networks to make certain points. Even much more than irresponsibility is the so-called fake news is being pushed by people in government, politicians, political elites, and public figures.
While it is our responsibility to protect the freedom of speech and expression, it also behoves on us to make sure that this liberty should not be taken for granted or abused by anyone.
This an outcry to our elites to apply caution when disseminating information. If we are ever going to battle the scourge of misinformation either deliberate or otherwise, it would be a collective effort from both the government and the citizenry.
One of the closest encounters with what could go wrong as a result of fake news is what we have all witnessed during the Electoral College counting at the US Capitol. If it took the strong democratic institutions to forestall what could have been a catastrophic breakdown of law and order in the US, what more can we say for countries with budding democracies?
It is no longer a matter of choice but of compulsion that we never allow fake news to take away what we enjoy as liberty.
---
Disclaimer
It is the policy of NewsWireNGR not to endorse or oppose any opinion expressed by a User or Content provided by a User, Contributor, or other independent party. Opinion pieces and contributions are the opinions of the writers only and do not represent the opinions of NewsWireNGR
kindly donate to the work we do using our interim PAYPAL https://www.paypal.me/NewsWireNGR